Eid Mubarak to all our families who are celebrating this weekend. As Eid falls on Saturday 9th and Sunday 10th July, we look forward to seeing all children in school on Monday 11th July.
Year 2 clubs, guitar, football, singing, Y5 challenge and Year 4-6 cricket clubs all finish on today. Please make sure that your child is collected at the normal end of day time from next week.
Tuesday 12th 9am Year 1 & 2 ABC Awards Assembly
Tuesday 12th PC Hewitt visiting Year 5 about internet safety
Wednesday 13th Reception hearing tests
Wednesday 13th 9am Year 3 & 4 ABC Awards Assembly
Thursday 14th 9am Reception ABC Awards Assembly
Friday 15th 9am 1S class assembly
Friday 15th 9am Year 5 & 6 ABC Awards Assembly
Friday 15th Non-uniform day - come dressed as your favourites sports star or clothing from your favourite country
Friday 15th Year 2 football session with Tony Daley
Monday 18th 6 - 8pm Year 6 Leavers' disco
Tuesday 19th July Jubilee Street Party lunch (picnic lunch provided by school for all children)
Wednesday 20th July 2pm Year 6 Leavers' assembly
Wednesday 20th July Last day of the summer term

Monday 11th July 9.15am for Reception
Thursday 14th July 9.15am Rearranged Year 1
Thursday 14th 10.45am Rearranged Year 2
To celebrate our Commonwealth Games fortnight, Ex-Professional Footballer Tony Daley is coming to Uplands Manor on Friday 15th July to run coaching sessions for some of our children in year 2.
He will then do the grand opening of our new astro-turf sports pitch at 3.30pm. Children and parents are very welcome to come and support and be part of this celebration. Feel free to come and gather on the field, near the fencing so you get a good view.
We look forward to seeing lots of you there.
We hope your Year 6 children have enjoyed their transition days at Secondary School. The following schools still have days planned.
Perryfields - Wednesday 13th & Thursday 14th July 9am - 3pm
Q3 Academy - Tuesday 26th July (parents will be sent a message about times from the school)
If your child has been chosen to receive an end of year award, you will have received a letter inviting you to attend the assembly. The assemblies will be on:
Tuesday 12th July 9am Year 1 & 2
Wednesday 13th July 9am Year 3 & 4
Thursday 14th July 9am Reception
Friday 15th July 9am Year 5 & 6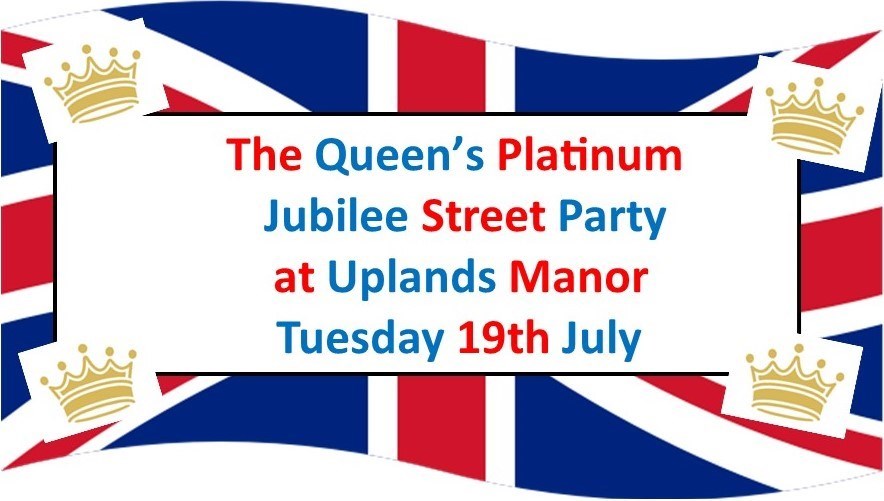 We are really looking forward to celebrating the Queen's Platinum Jubilee during the last week of term.
On Tuesday 19th July, all children will enjoy a Jubilee street party with a picnic lunch.
Picnic food will be provided for all children so you won't need to book a meal or send a packed lunch. Children with special menus will be catered for.
The street party will include a special visit from one of the Deputy Lieutenants of Sandwell.
This is a list of the term dates, holidays and training days for the next academic year.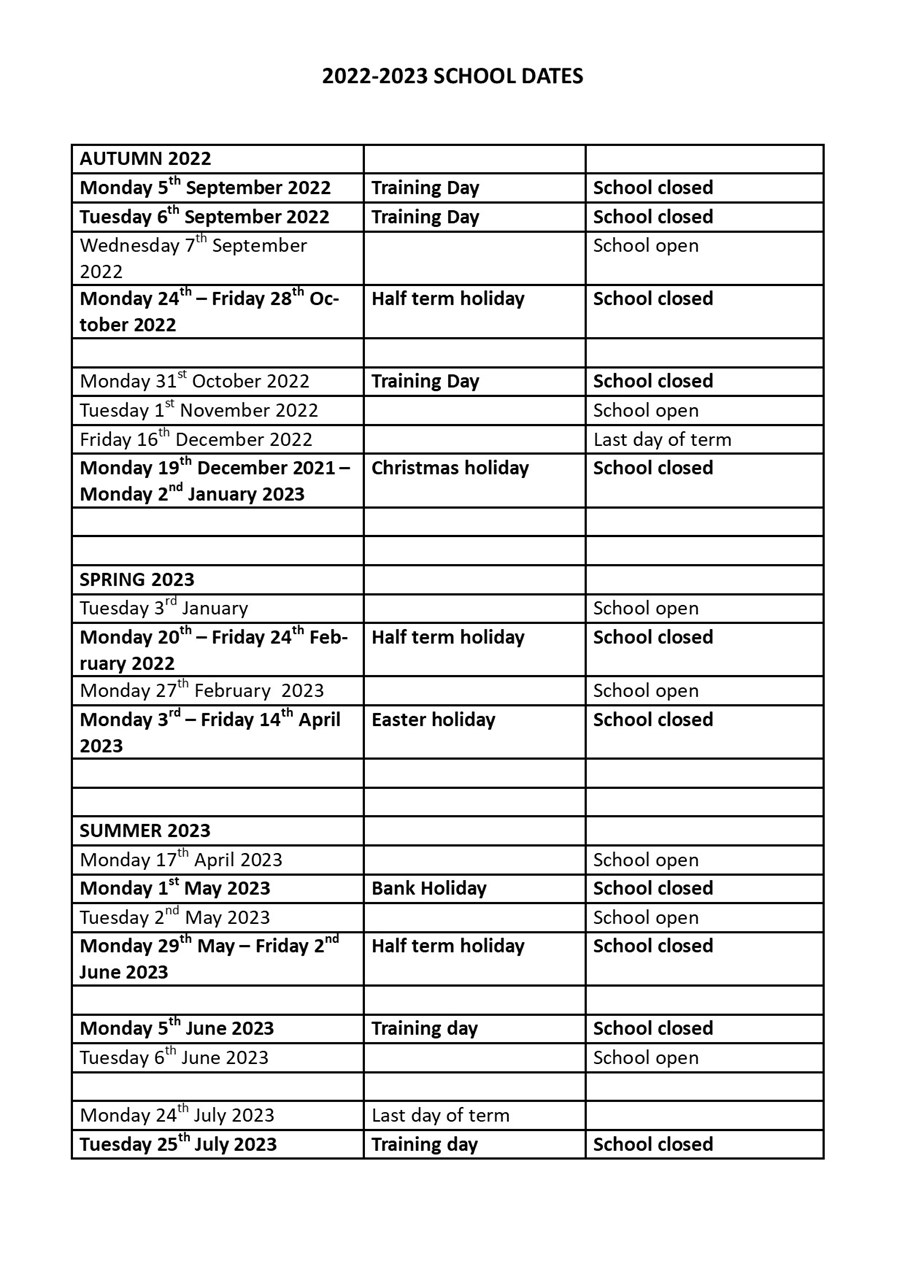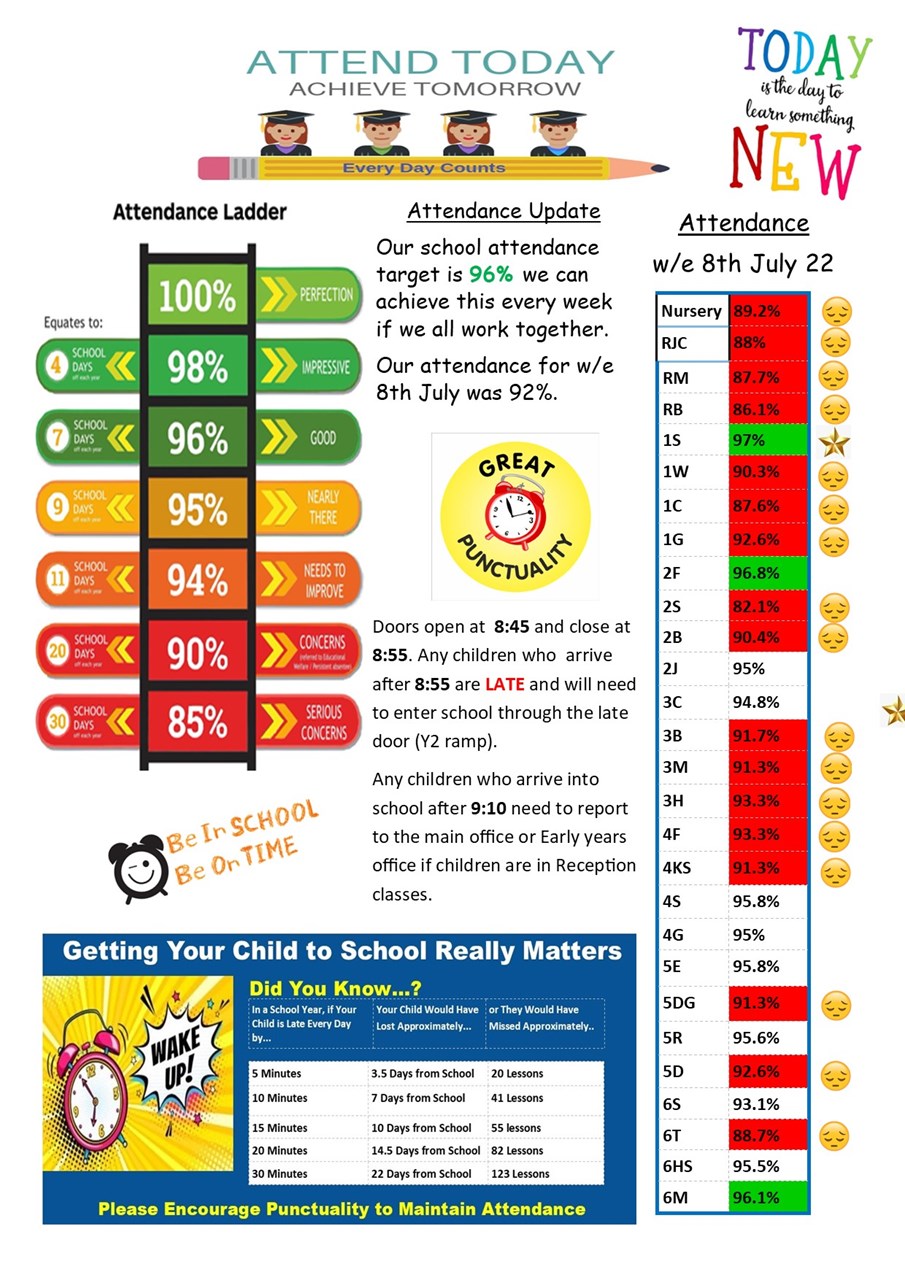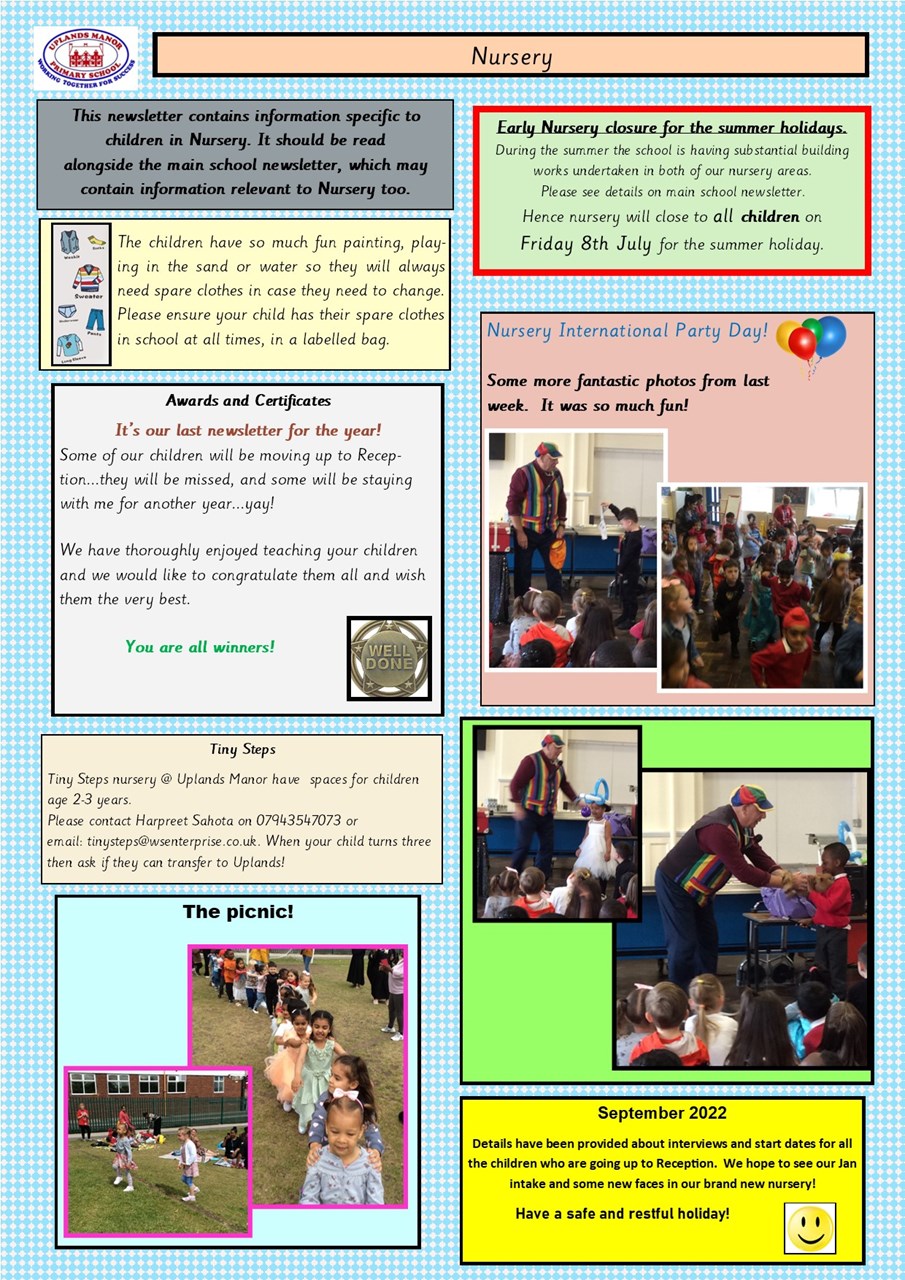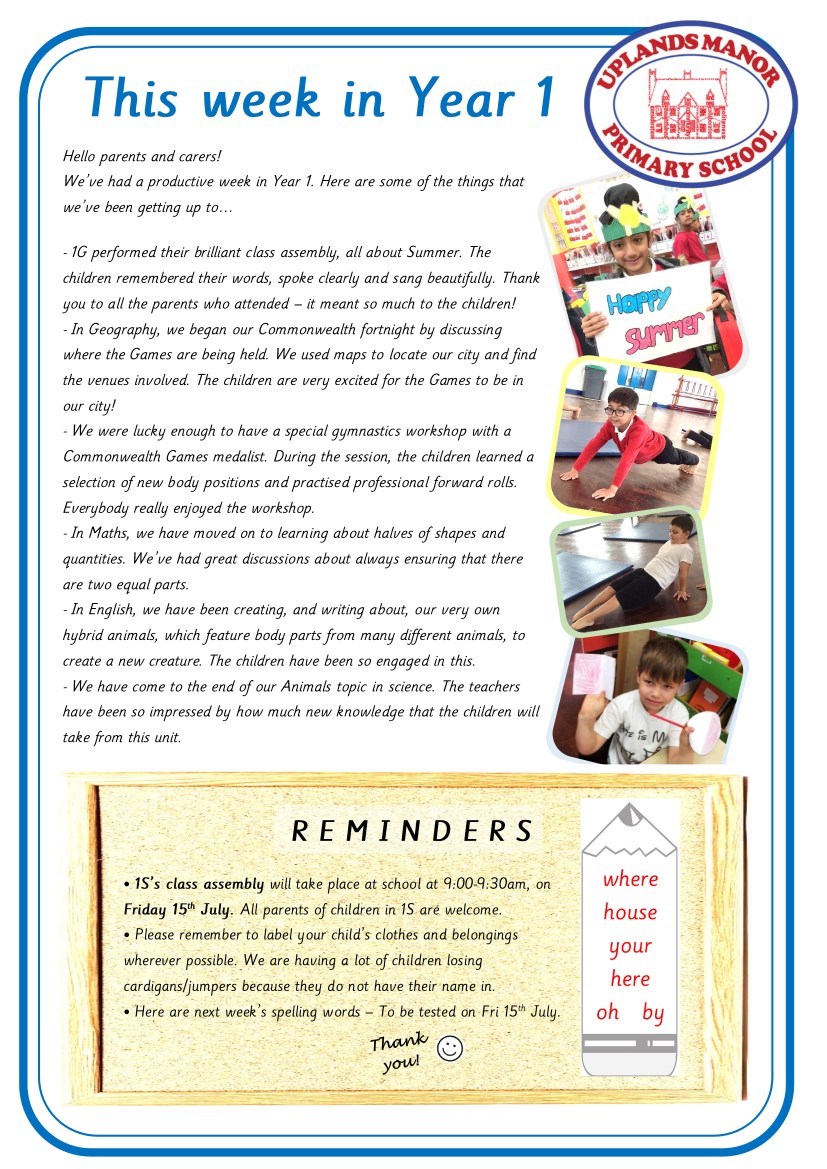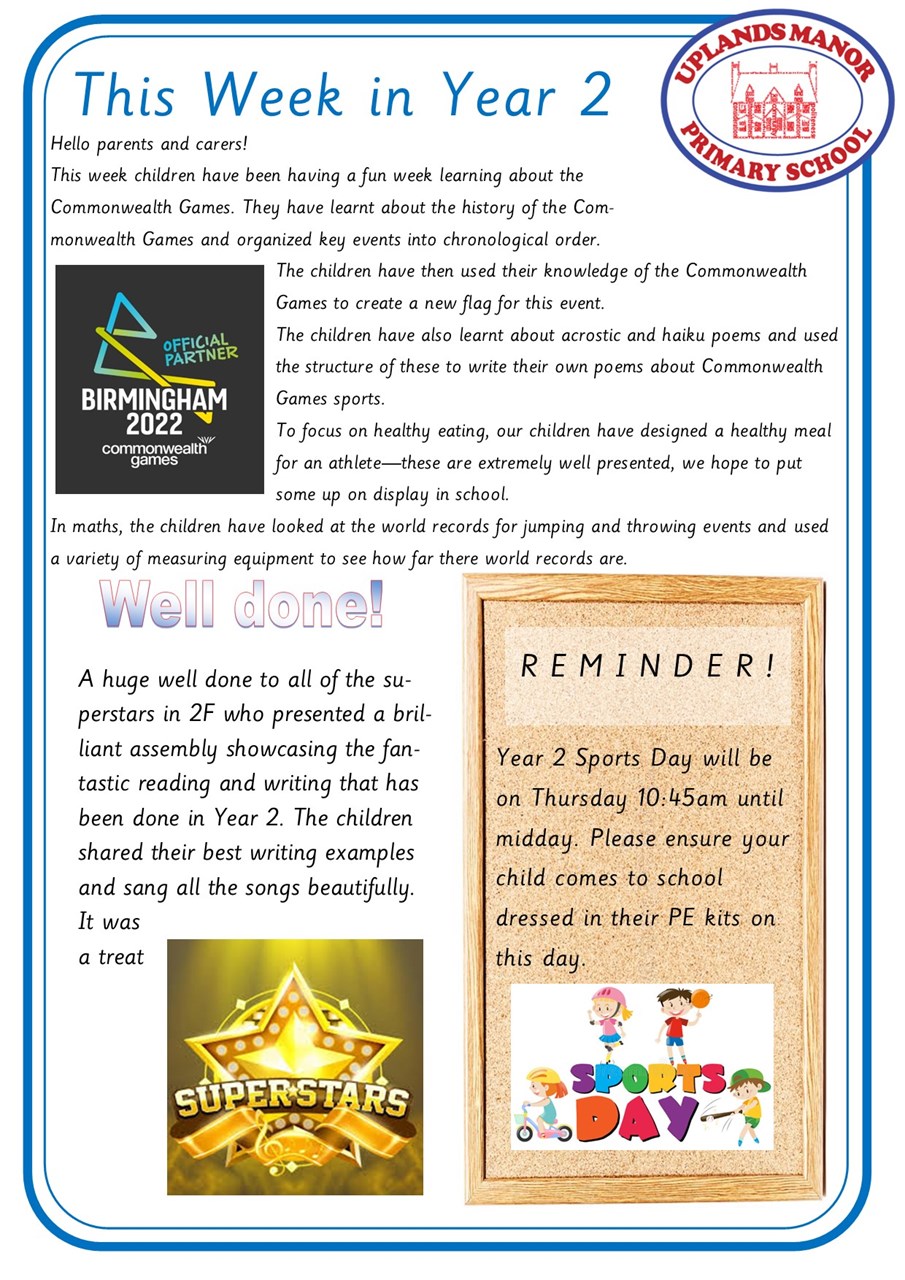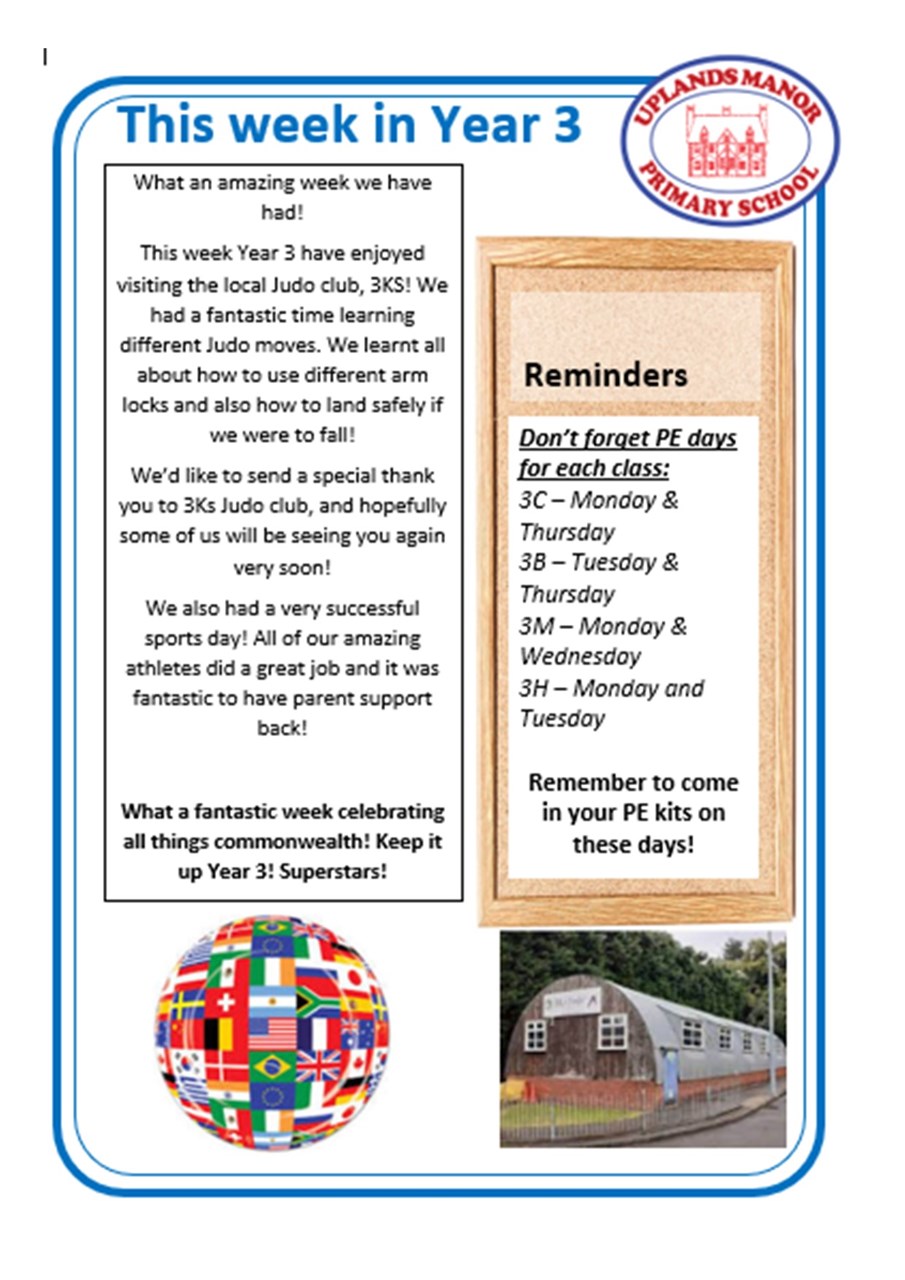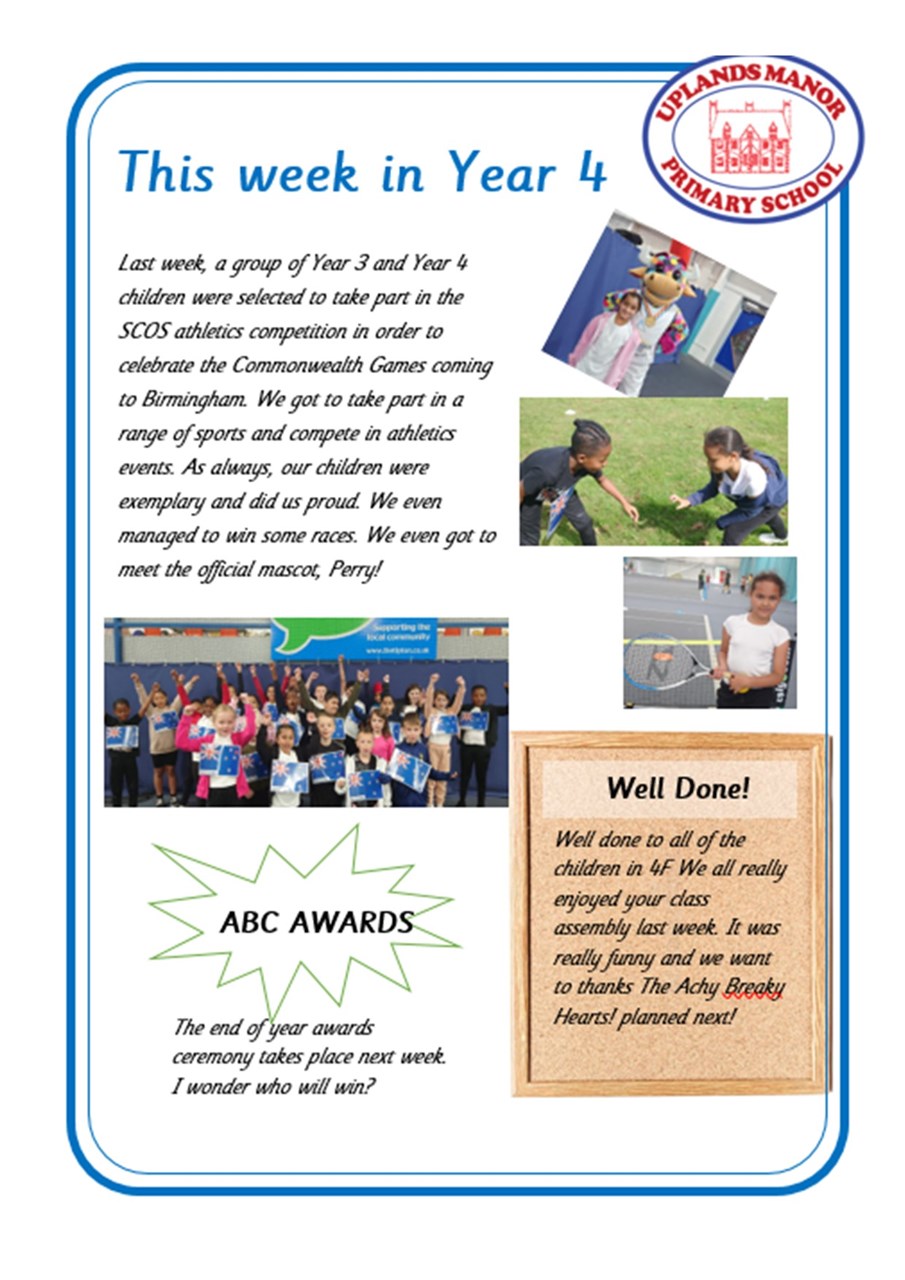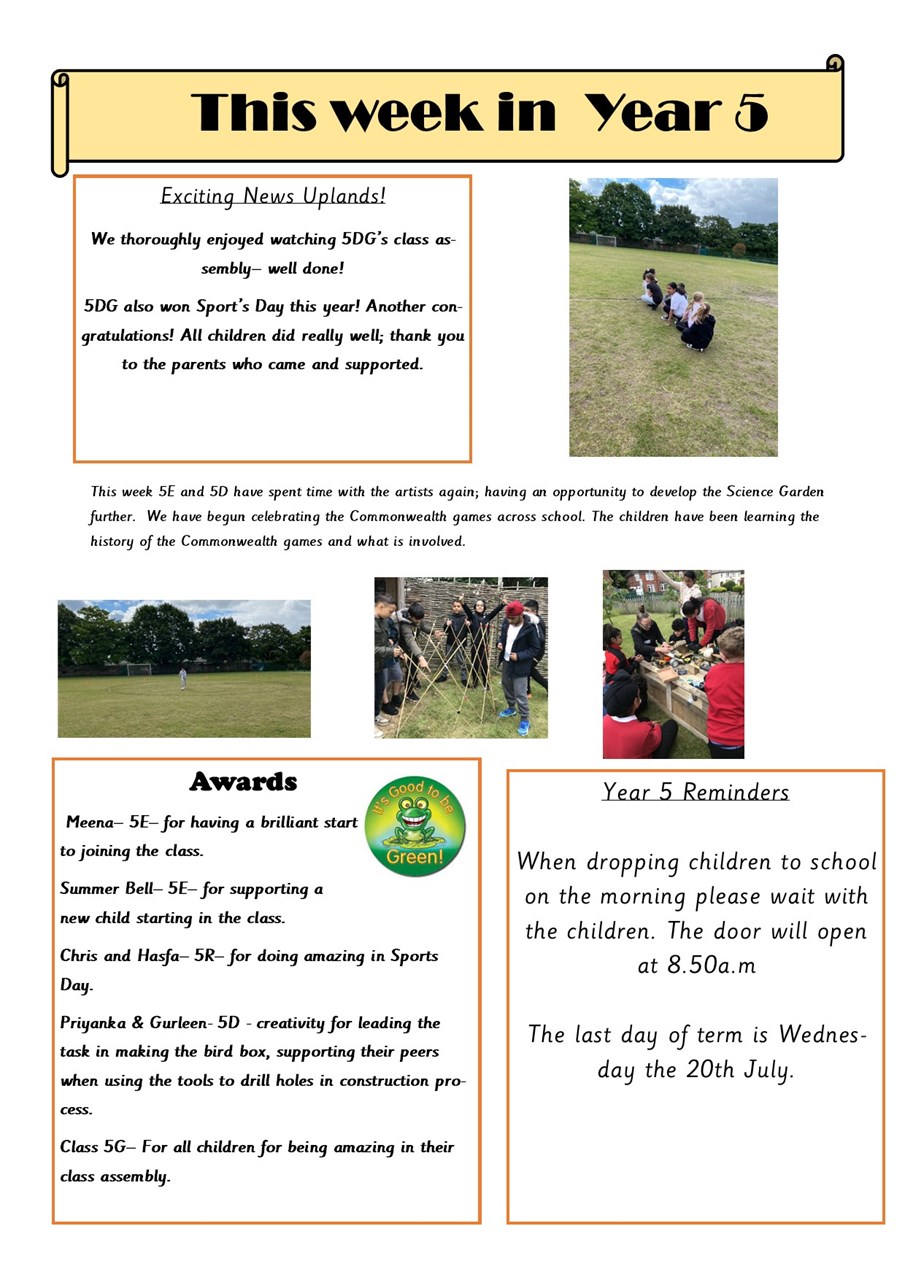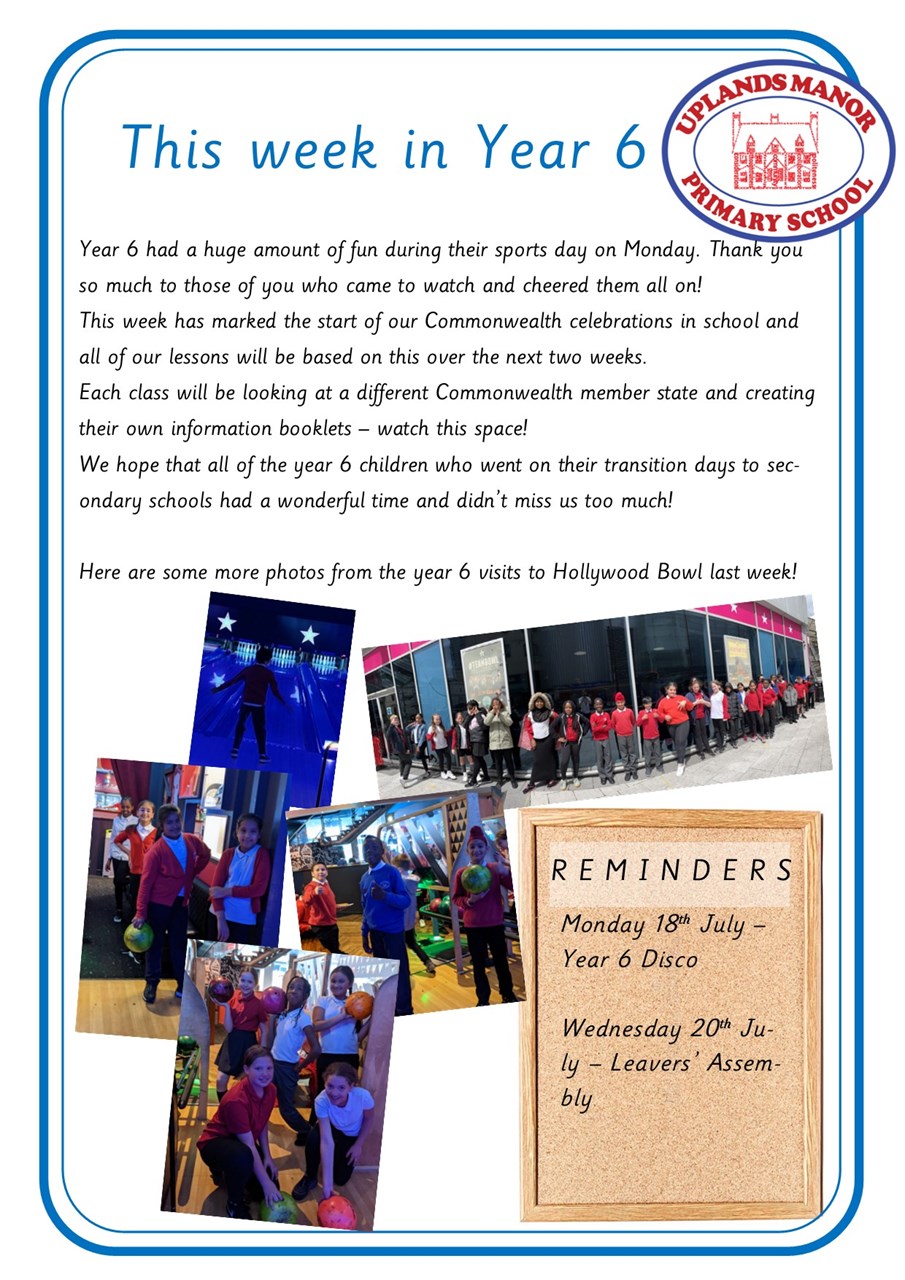 Water bottles, sunhats and suncream
Please remember to give your child a water bottle and a hat to bring into school every day. You can send in suncream in a labelled bottle but the children must be able to apply it themselves.
All items need to have your child' full name and class on.
School dinners - price increase from September 2022
Please note that the price of school dinners will increase to £2.41 from September. All meals bookings and payments are done on the School Gateway app.
Secondary School place applications for September 2023 start
If your child is due to start in Year 7 at secondary school in September 2023, the application process starts on Monday 18th July and closes on Monday 31st October. Click the link below to read the letter from Sandwell about the secondary school application process.
The Dorothy Parkes Centre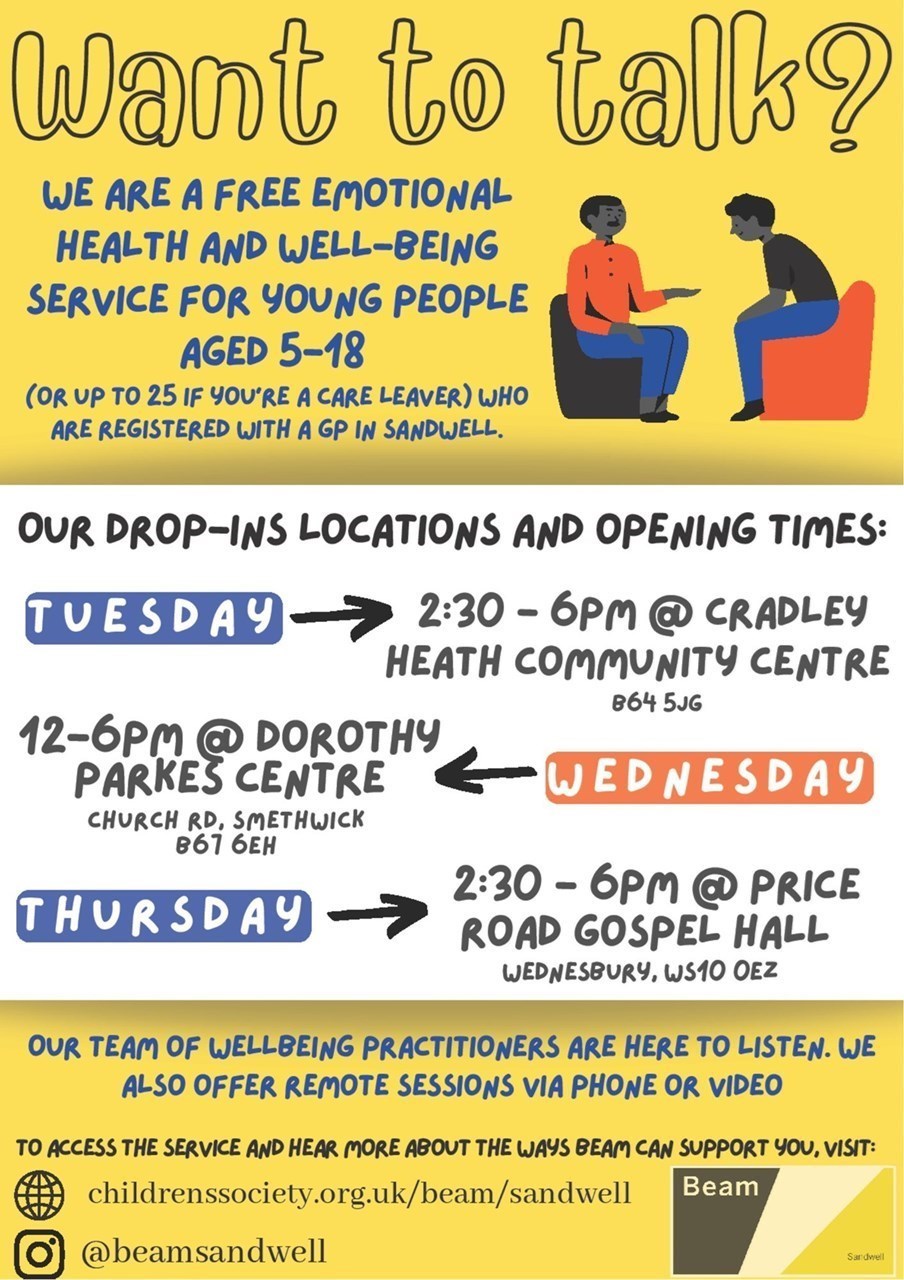 Click on the link below to read the latest newsletter from The Dorothy Parkes Centre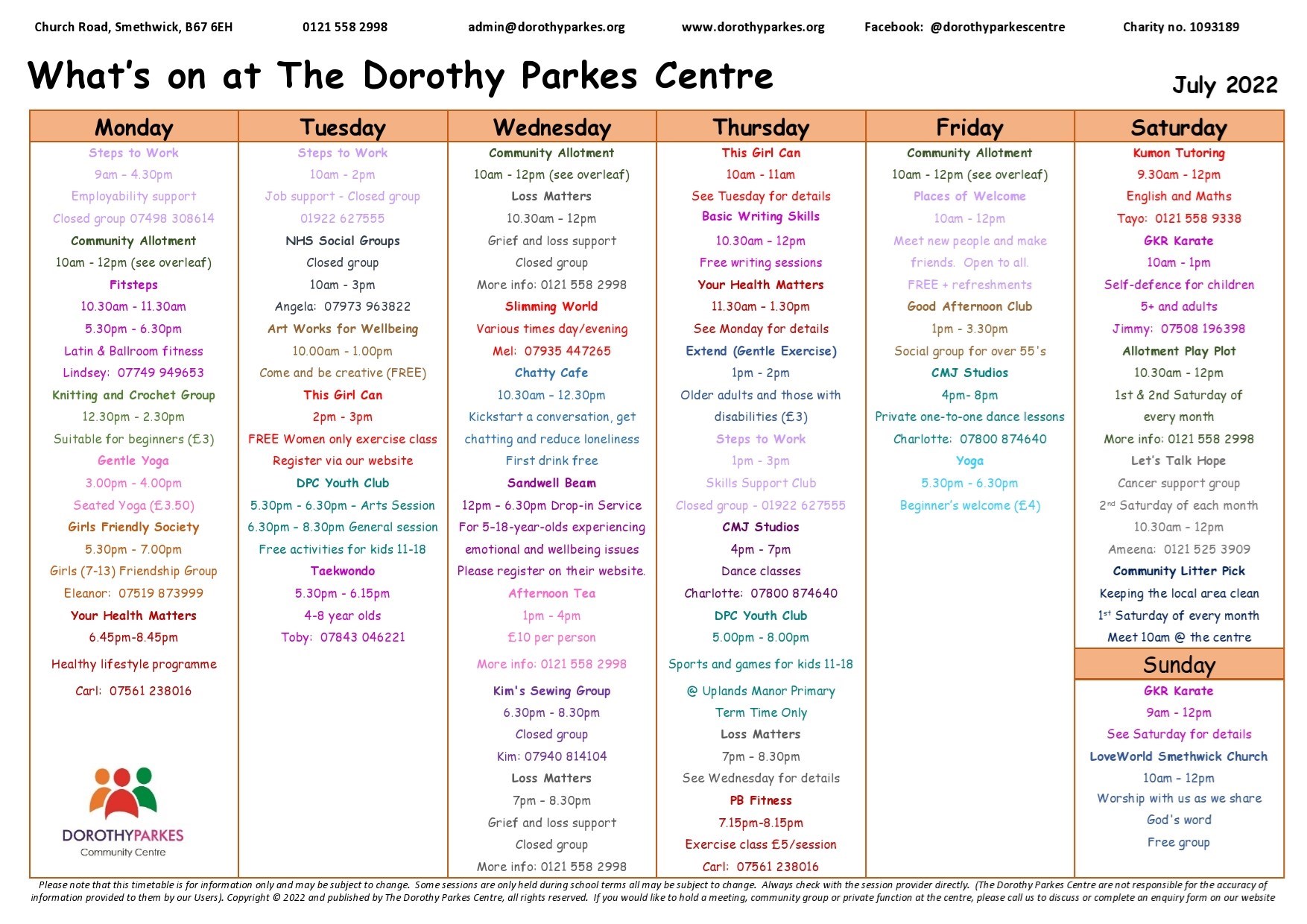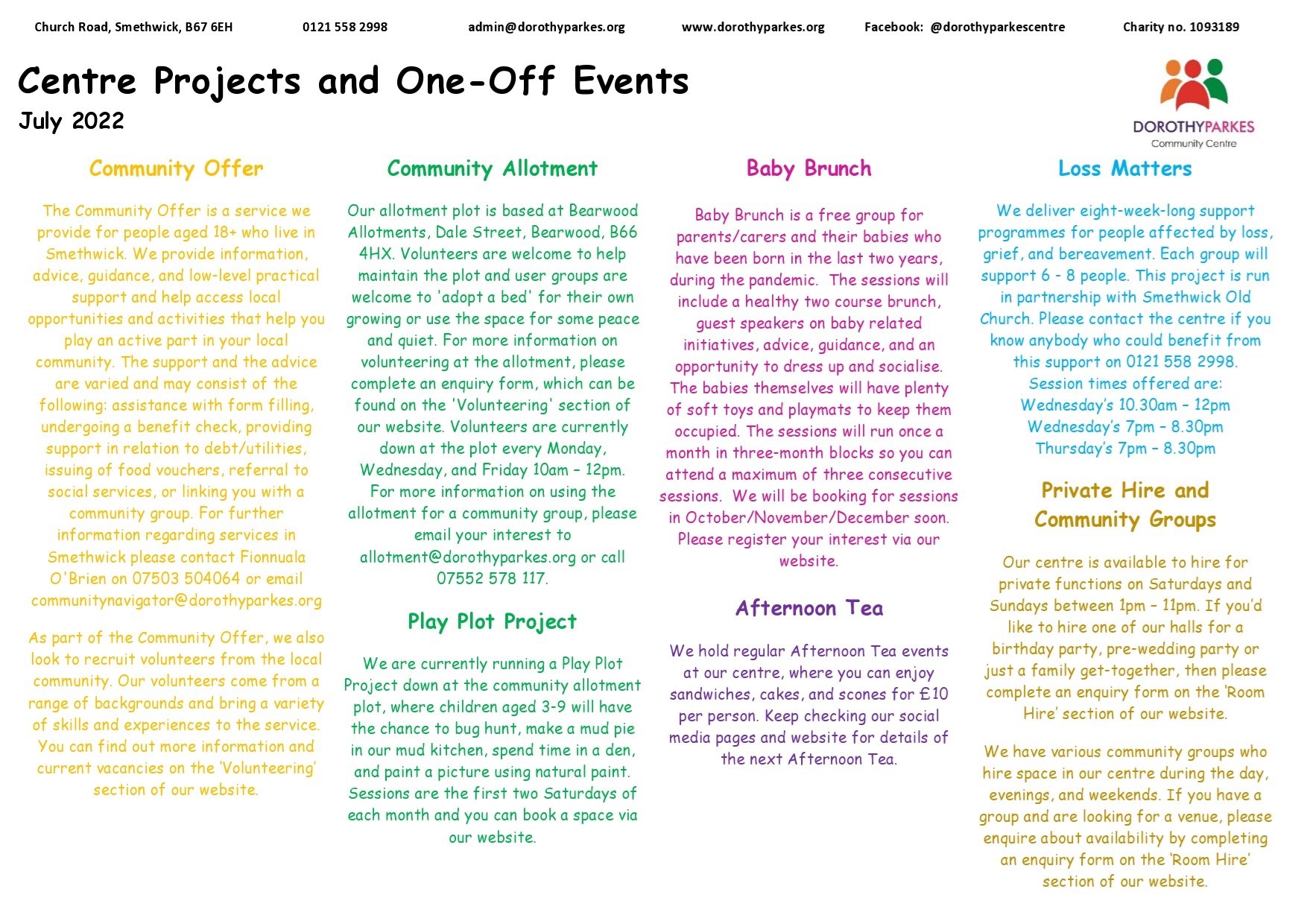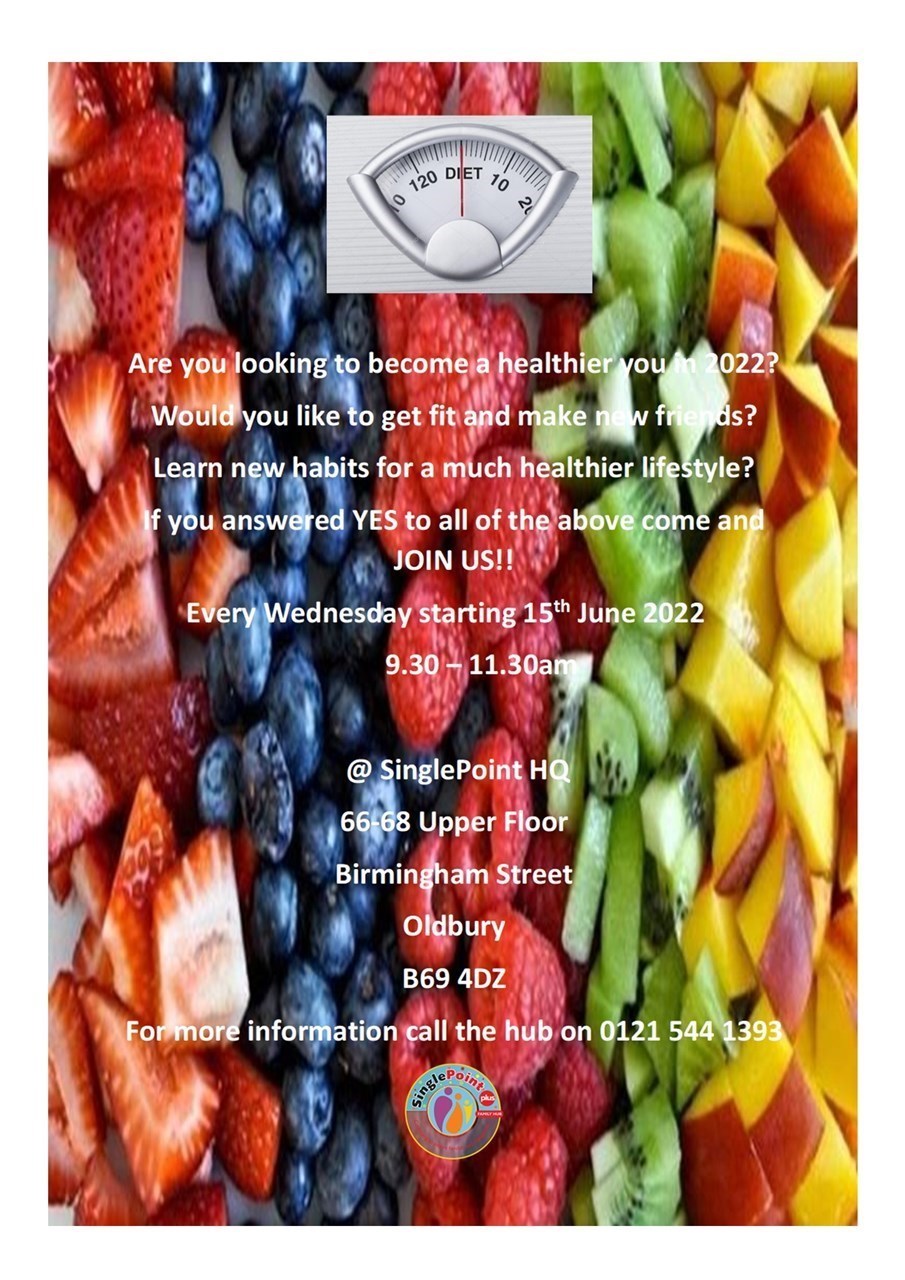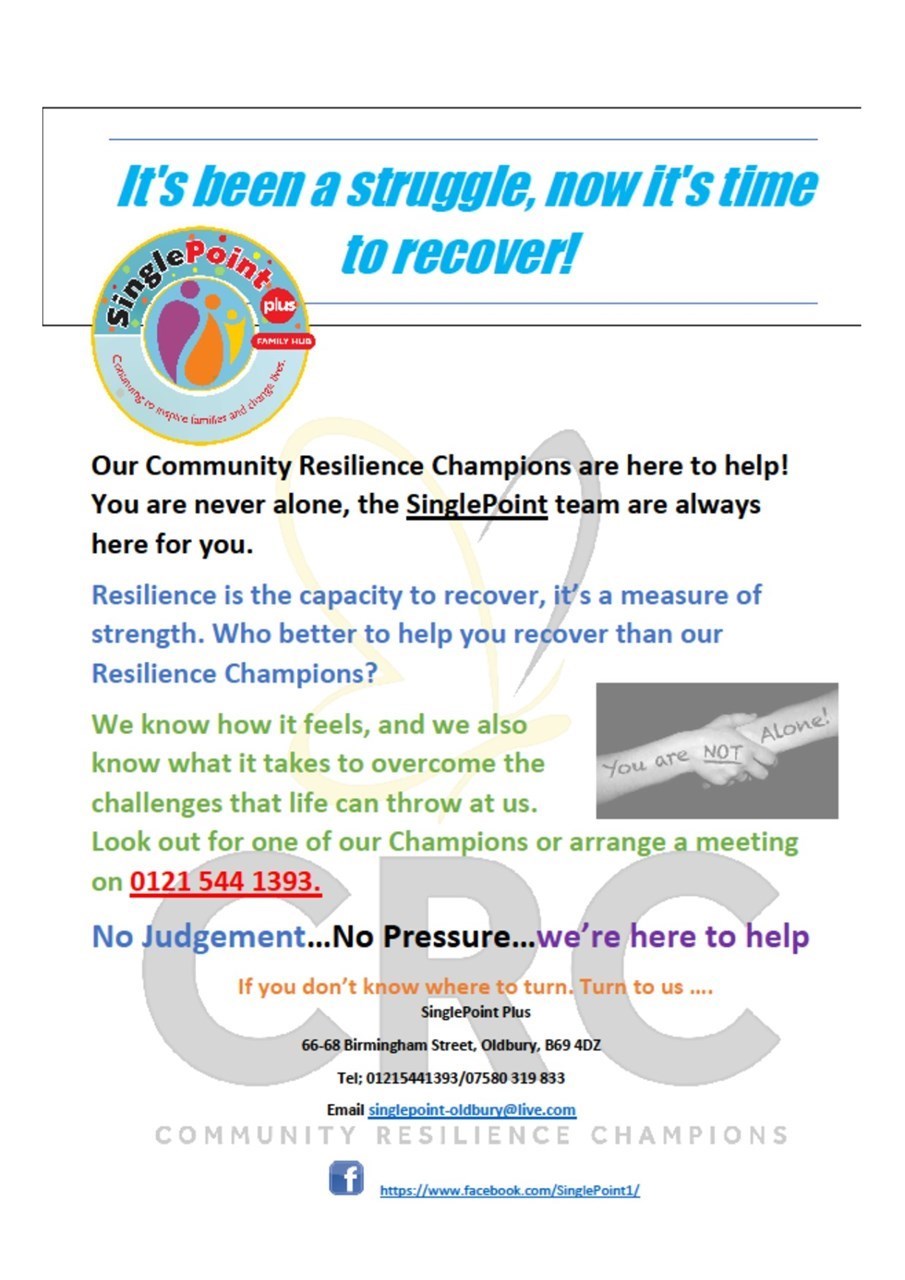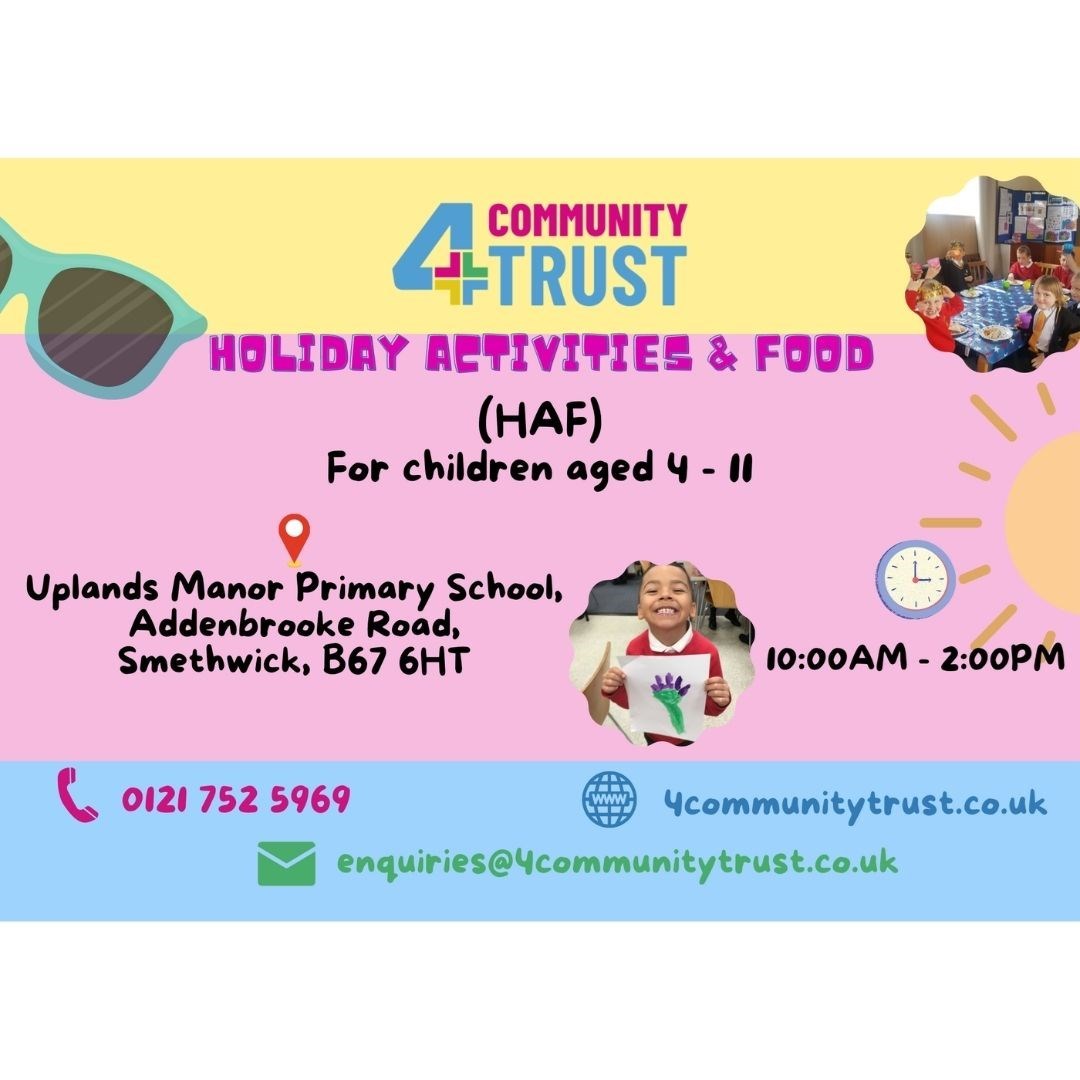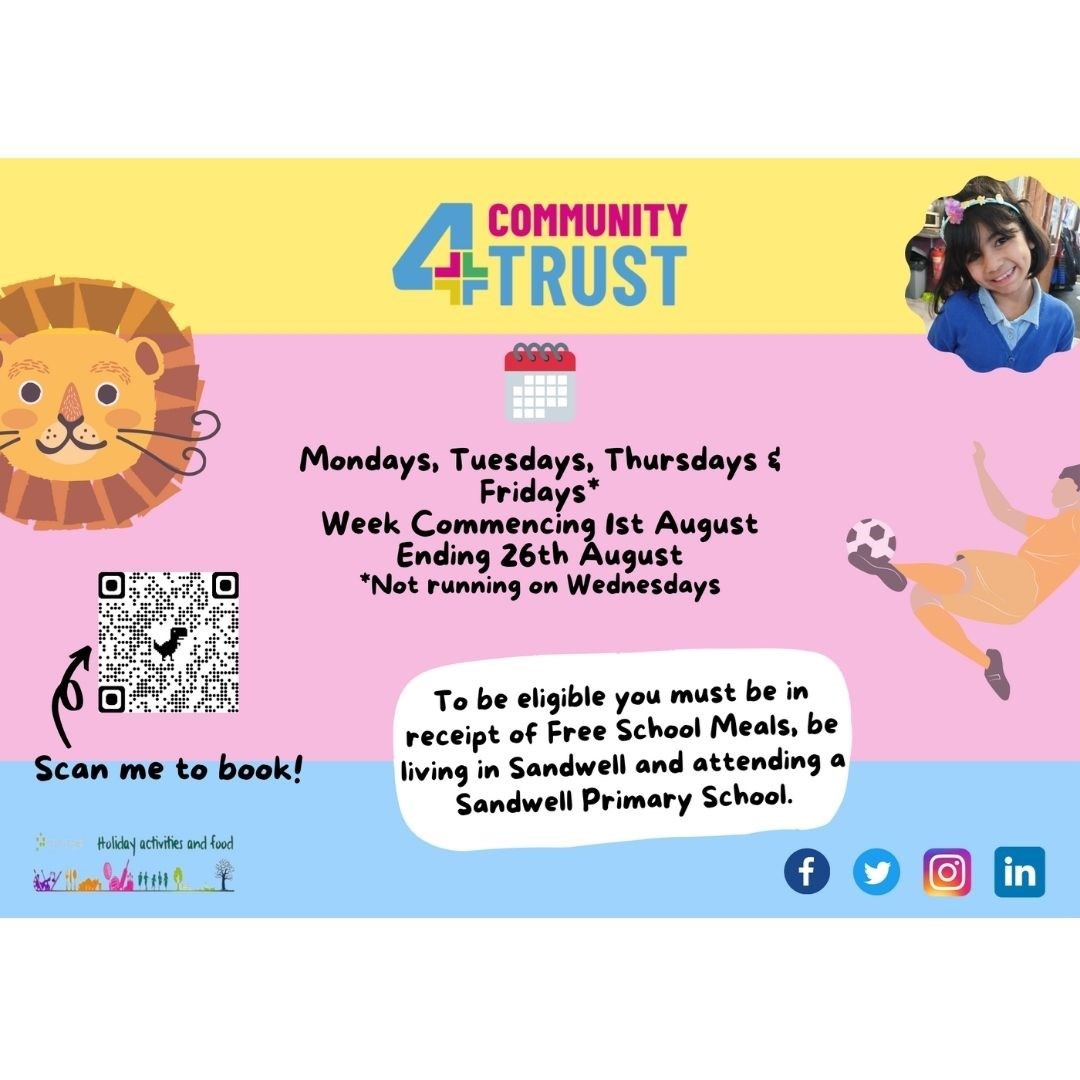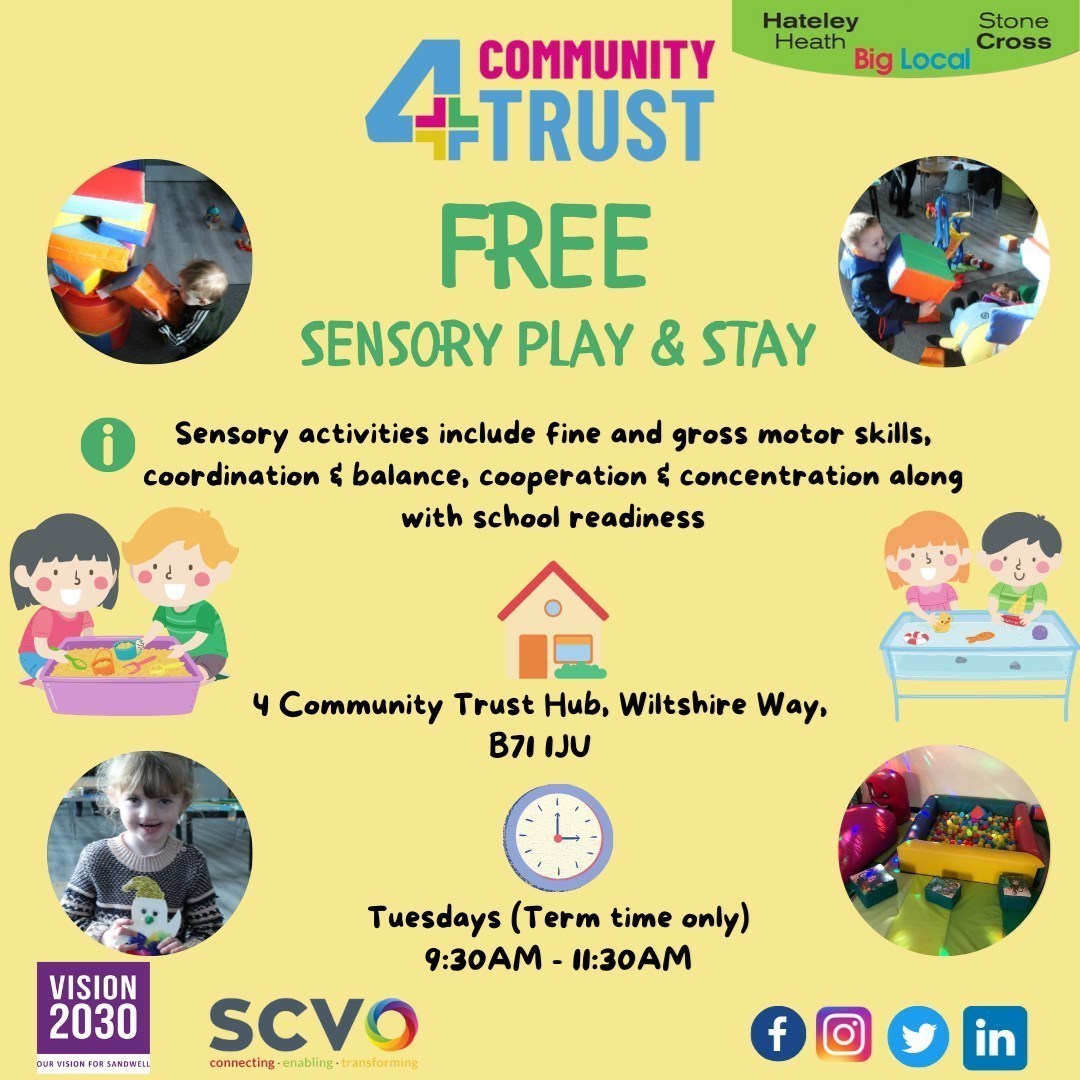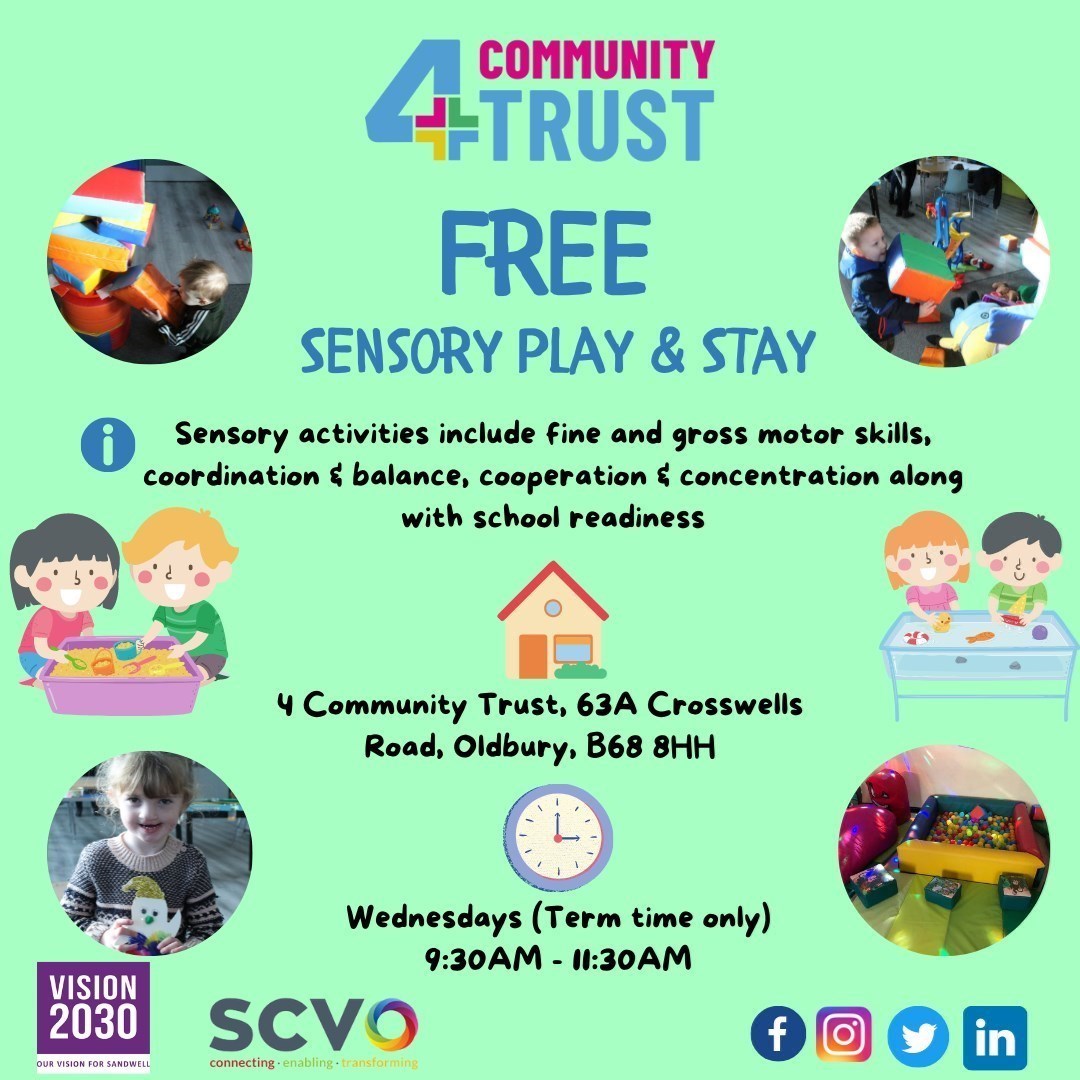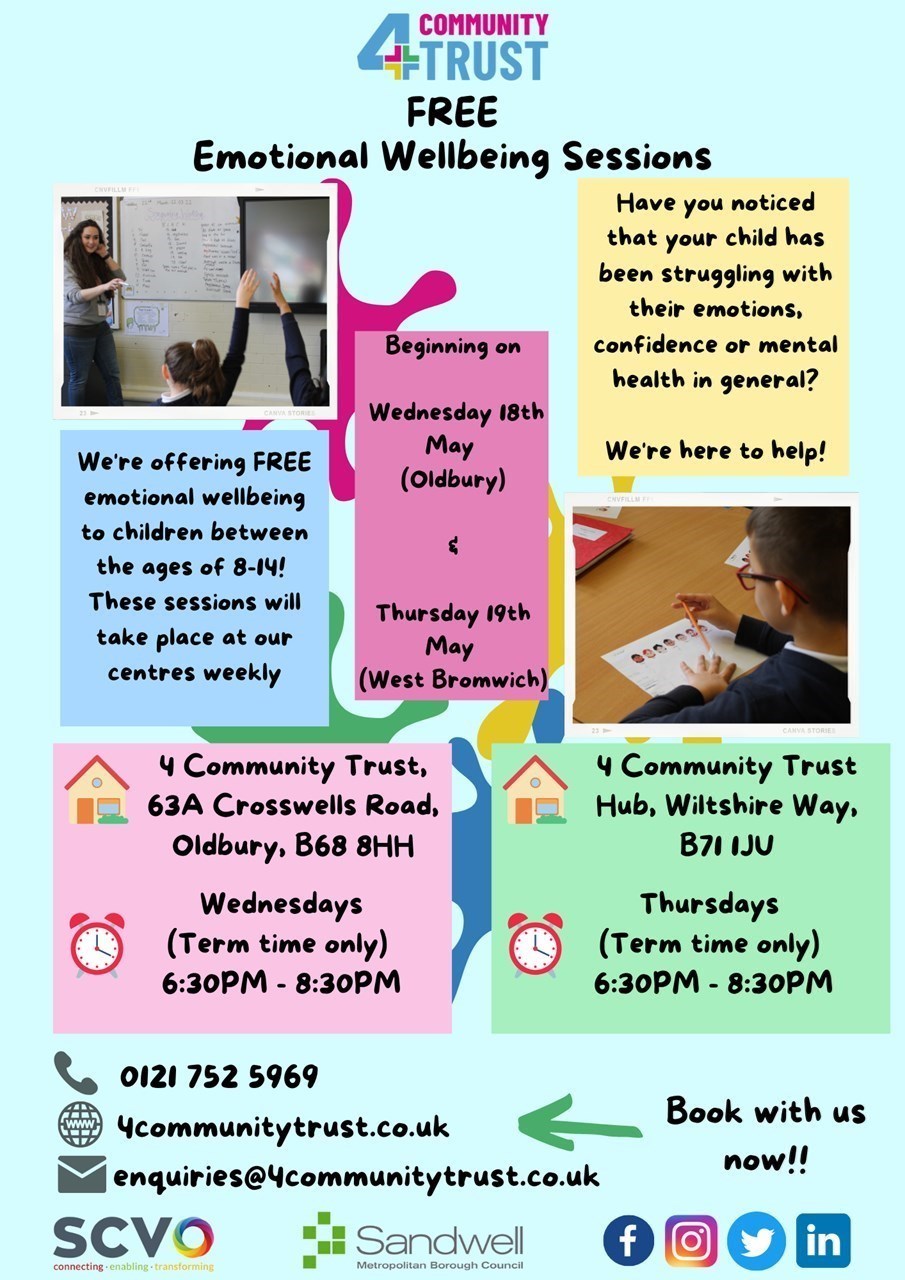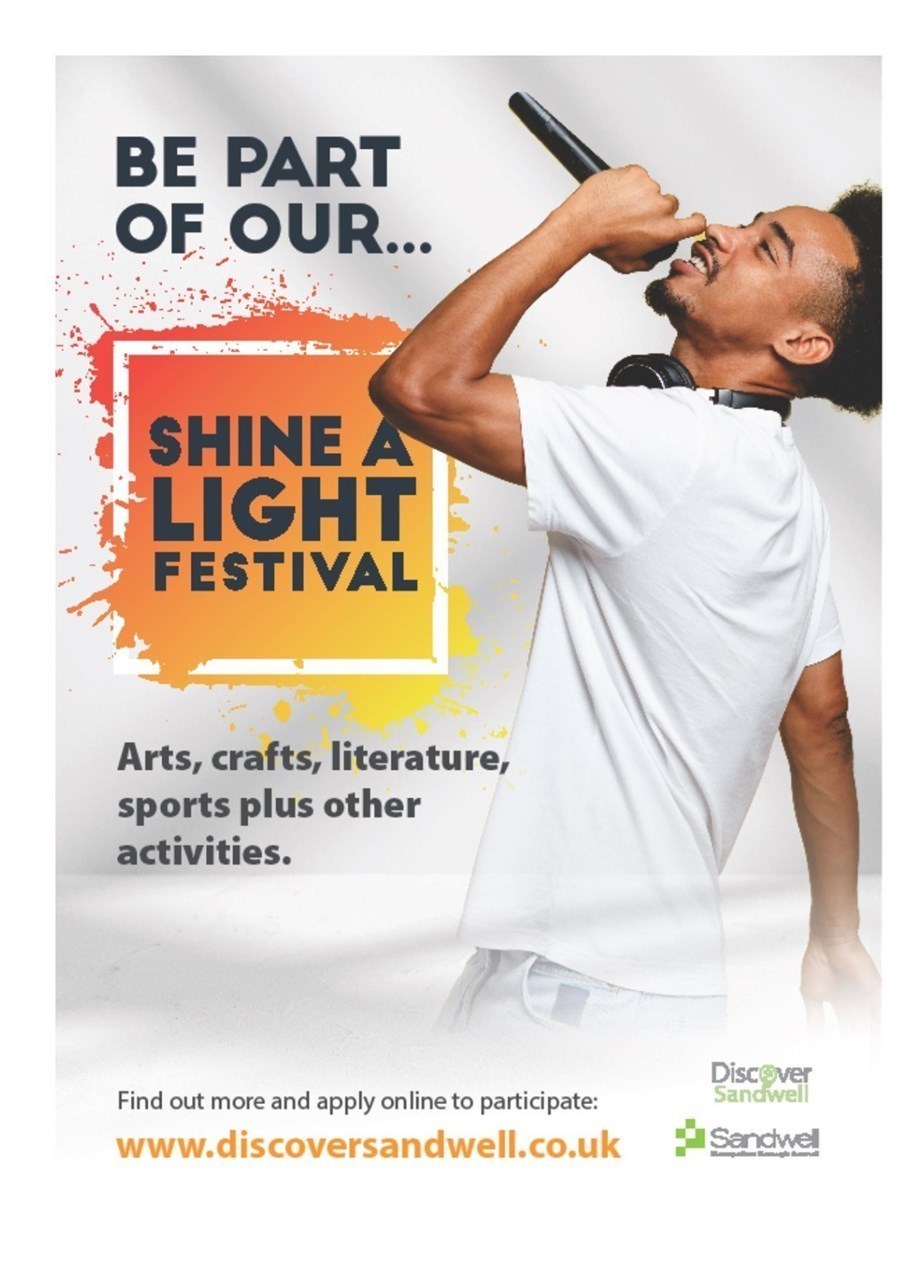 In the build up to and during the Birmingham 2022 Commonwealth Games, Sandwell Council is running an engaging and inclusive programme of cultural events across the Borough.
Shine a Light Festivals will take place across each of Sandwell's six towns and aim to showcase Sandwell's rich, diverse culture and showcase the best of arts, sport and culture from all ages, background and parts of the community.
We will be holding a celebration event across the weekend days at Lightwoods Park, 10am-4pm, and an evening extravaganza at Victoria Park, 4pm-9pm.
There are several ways to do this, such as performing on one of our stages or performance areas at our evening event or displaying artwork during the day. We would welcome input from already established groups such as drama clubs or choirs, or even individual students. For further information on the Shine a Light Festival's you can visit: www.shinealightfestival.co.uk
Website: www.DiscoverSandwell.co.uk
Facebook: Discover Sandwell
Instagram: @DiscoverSandwell
Twitter: @VisitSandwell

The Summer Reading Challenge combines FREE access to books with fun, creative activities during the summer holidays. Throughout the Challenge, library staff and young volunteers support the children, helping them to discover new authors and illustrators and to explore a wide range of different types of books and ways of reading.
• Children sign up through their local library and receive a Gadgeteers collector poster.
• Children set a reading goal and borrow and read library books of their own choice during the summer, collecting special stickers to complete their poster and extra incentives along the way.
• Library staff and volunteers are on hand to advise and run family-friendly activities.
• Children who complete the Summer Reading Challenge are presented with a certificate and a medal.
• The official Challenge website hosts digital rewards, author videos, games and more for children to enjoy all summer: www.summerreadingchallenge.org.uk
Sandwell Parents for Disabled Children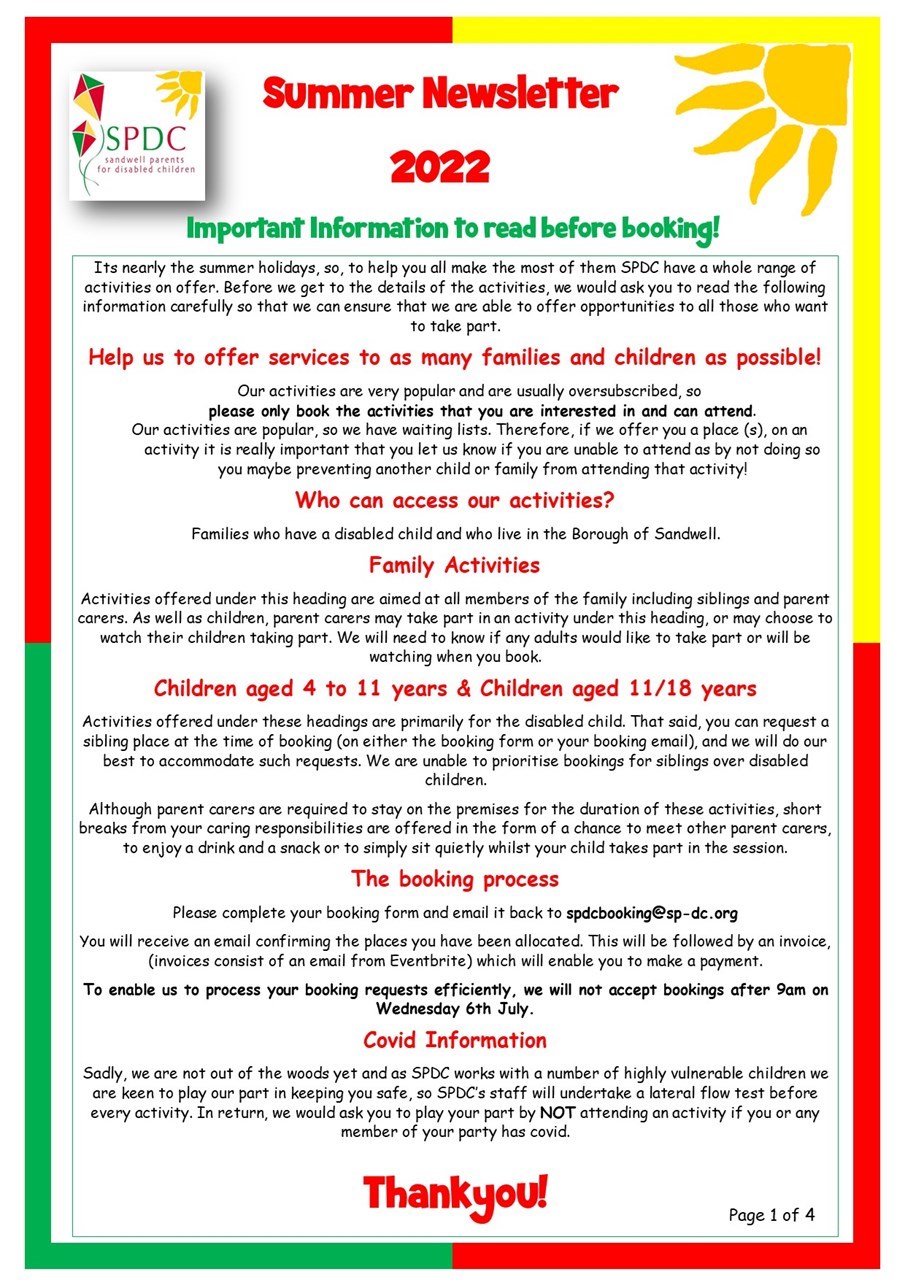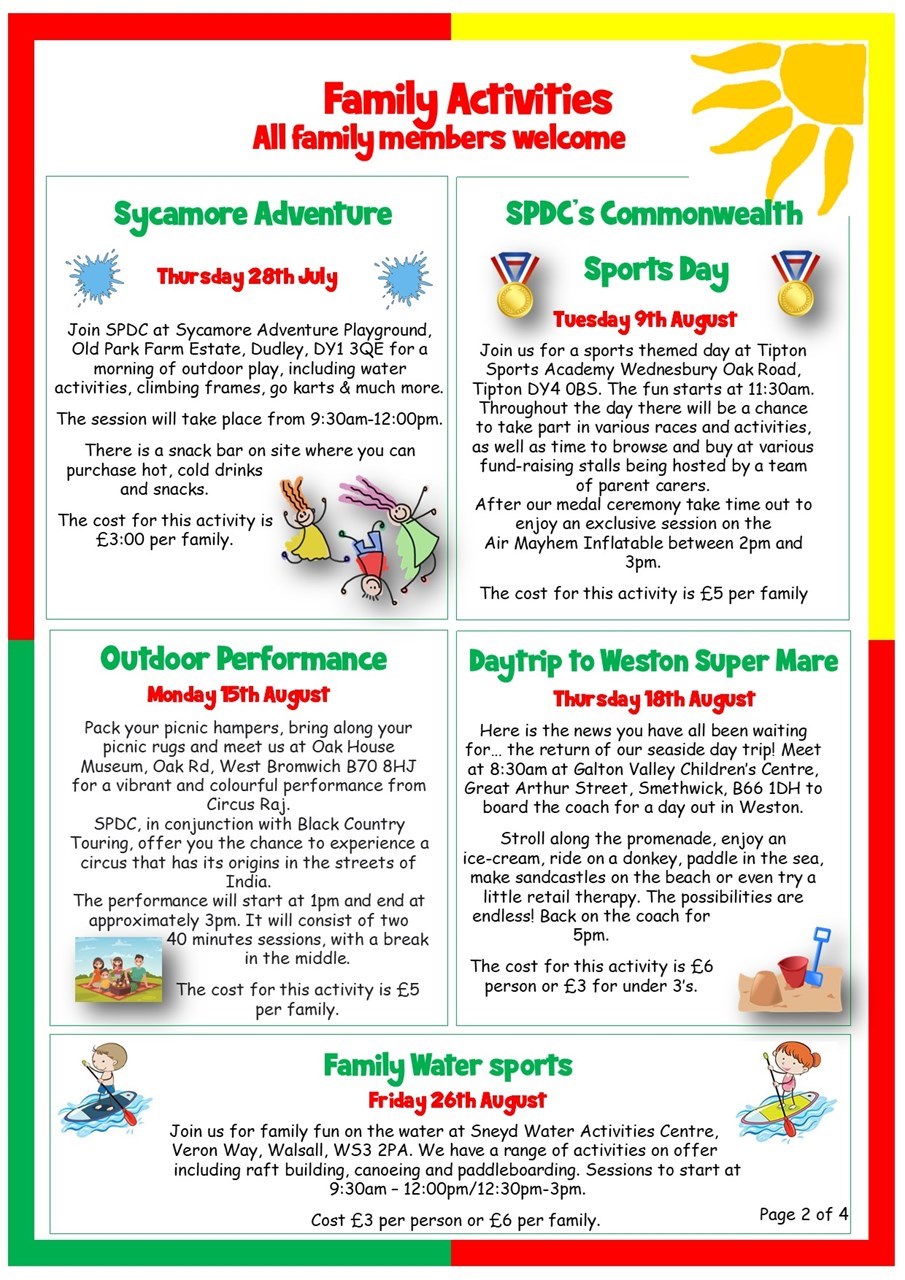 Sandwell Young Photographer of the Year 2022
Does your child like taking photographs? Click the link below to read about Sandwell Young Photographer of the Year competition.