Newsletter 30th September 2022
Letters and information sent home this week:
Year 4 additional swimming sessions
We are having a special lunch on Thursday 6th October for Census day. It is an important day in the school calendar as it determines the amount of funding we received for each pupil for the year and increases the amount of opportunities we can offer children in school.
We would love your child to have a school dinner with us.
Please book the meal on the School Gateway app.
Reception, Year 1 and Year 2 - Your child is entitled to Universal Free School Meals, therefore you won't be charged. 
Year 3, Year 4, Year 5 and Year 6 - you will need to pay £2.41.  However, i your child is entitled to FSM you won't be charged.
Sandwell Council is consulting parents, staff and the local community on the re-designation and expanding the school to add a new, dedicated SEN Unit at Uplands Manor Primary School.
You are invited to express your views on the proposal in writing. Please use the form at the end of the consultation document, and return it to the school, or the address on the form, by Friday 14 October 2022 at 5.00pm.
Copies of the consultation and response form can be collected from the School Reception.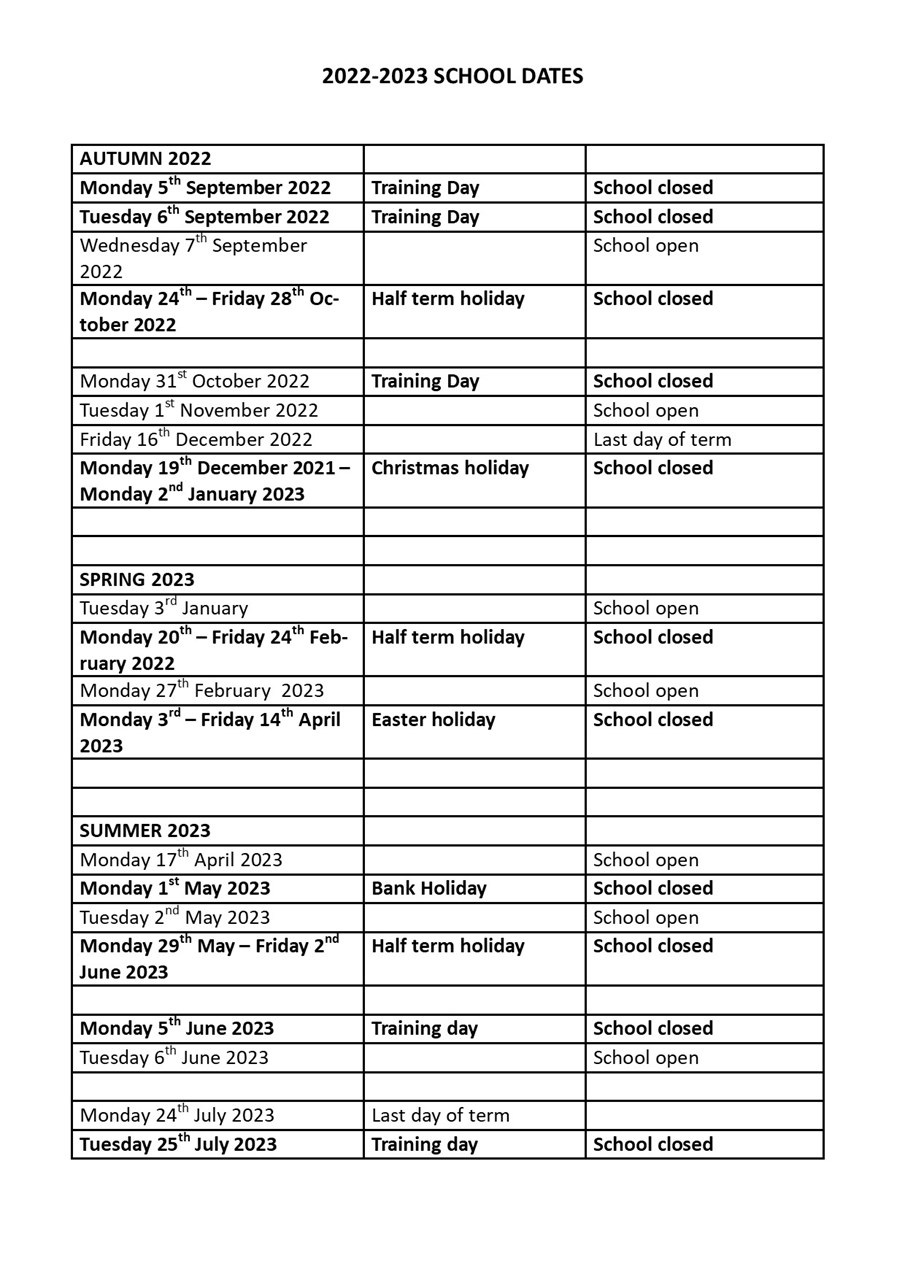 14th October 6M
2nd November 4S
4th November 6T
15th November 2S
16th November 4G
25th November 6S
Please make a note in your diary of the club dates. The start and end dates are the same for all of the clubs.
All clubs finish on Friday 21st October.
Monday 3rd 2.30pm Year 1 Parents' Phonics Workshop
Tuesday 4th 9am Reception Parents' Phonics Workshop
Tuesday 4th 9.15 - 10.15 Coffee morning with Occupational Therapists (more details below)
Tuesday 4th 2 - 3pm Coffee morning with Occupational Therapists (more details below)
Monday 10th Hello Yellow for Mental Health Awareness
Tuesday 11th 9.15 - 10.15 Coffee morning with Occupational Therapists (more details below)
Thursday 13th 9.15 - 10.15 Coffee morning with Occupational Therapists (more details below)
Tuesday 18th 3.30 - 6pm Parents' Evening
Thursday 20th 3.30 - 6pm Parents' Evening
Monday 24th - Friday 28th October - SCHOOL CLOSED FOR HALF TERM HOLIDAY
#HelloYellow 2022 for Mental Health Awareness
On Monday 10th October, children are encouraged to come to school wearing something yellow or something that makes them feel happy. We will be learning more about mental health awareness in school.
Does your child have sensory processing difficulties?
As an exciting new initiative in Sandwell, Uplands Manor Primary School is working in partnership with a team of Specialist Childrens Occupational Therapists to look at different ways to engage learners in classroom activities and wider school life.
We would love to see you at one of the coffee mornings in school. They will be an opportunity to meet with the Children's Occupational Therapists, ask them questions and find out more about how to best support your child.
The coffee mornings will be on:
Tuesday 4th October 9.15am
Tuesday 4th October 2pm
Tuesday 11th October 9.15am
Thursday 13th October 9.15am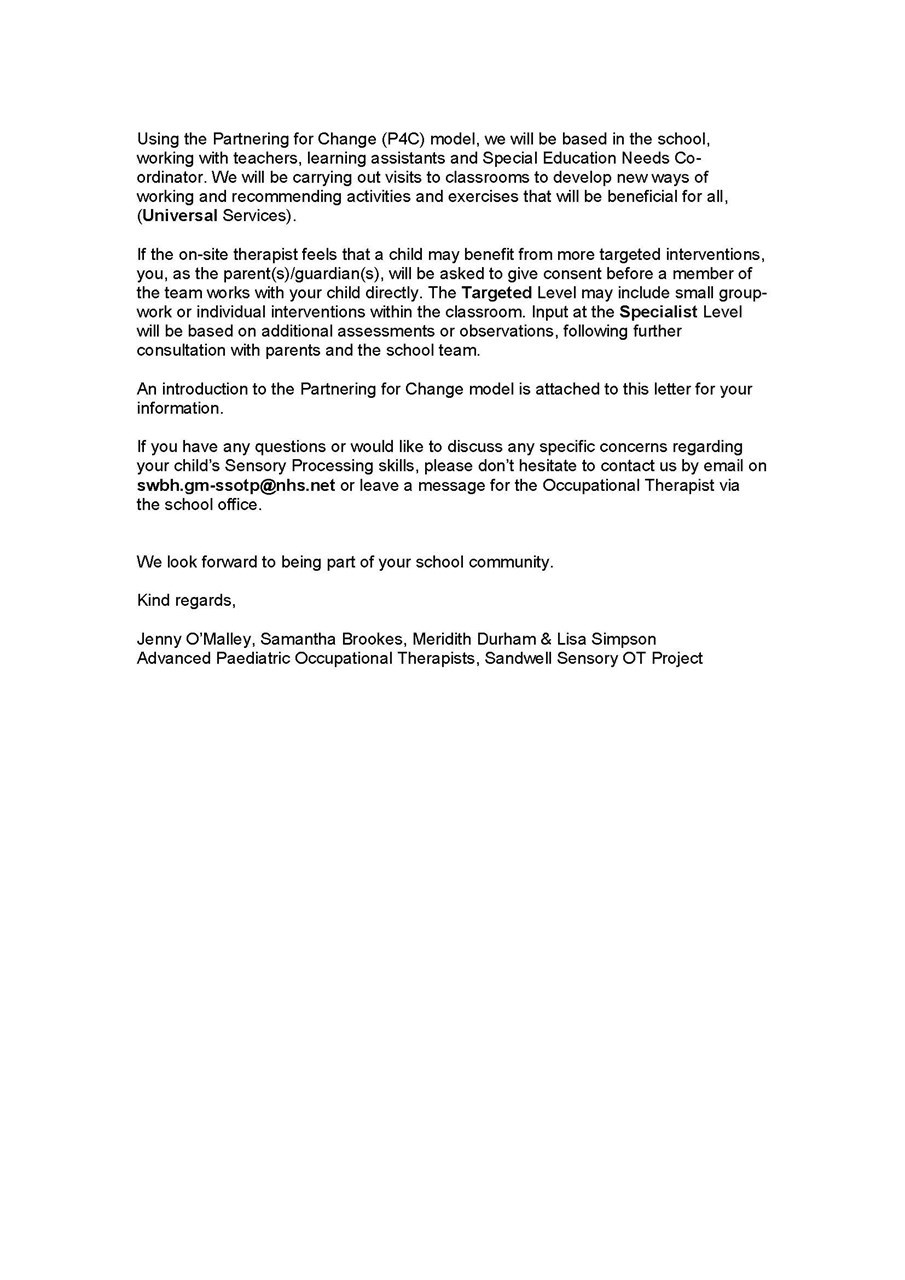 Year 6 Secondary School applications
If your child's date of birth falls between 01/09/2011 and 31/08/2012, you need to apply for a secondary school place by 31st October.
It is extremely important that you complete the application by the closing date or your application will be classed as 'late' and your child might not get a school place of their choice.
Click https://bit.ly/3lojJcs to complete the application.

We believe that it is important to celebrate achievements. As part of our 'Good to be Green' behaviour and reward system, each week, children may be given a certificate, a gold letter from a member of staff or a certificate from Mr Dickinson or Miss James.
Maliakah - Enthusiasm
Jamaal - Achievement
Eyad - Reading
Muska - Creative
Rian - Belief
Mahrosh - Reading
Rosalie - Determination
Jorowar - Achievement
Raheem - Reading
Paisley - Achievement
Emily - Reading
Alana - Enthusiam
Ion - Enthusiam
Angel - Belief
Sapphire - Achievement
Vanya - Creativity
Harry - Enthusiam
Abhinas - Achievement
Hany - Belief
Goda - Belief
Amanpreet - Enthuasium
Zandile - Enthusiasm
Faizan - Achievement
Dhanvi - Determination
Omar - Enthusiam
Headteacher & Deputy Headteacher Awards
Congratulations to the children who have received a Headteacher or Deputy Headteacher award this week. They are:
Callen J for amazing work in Maths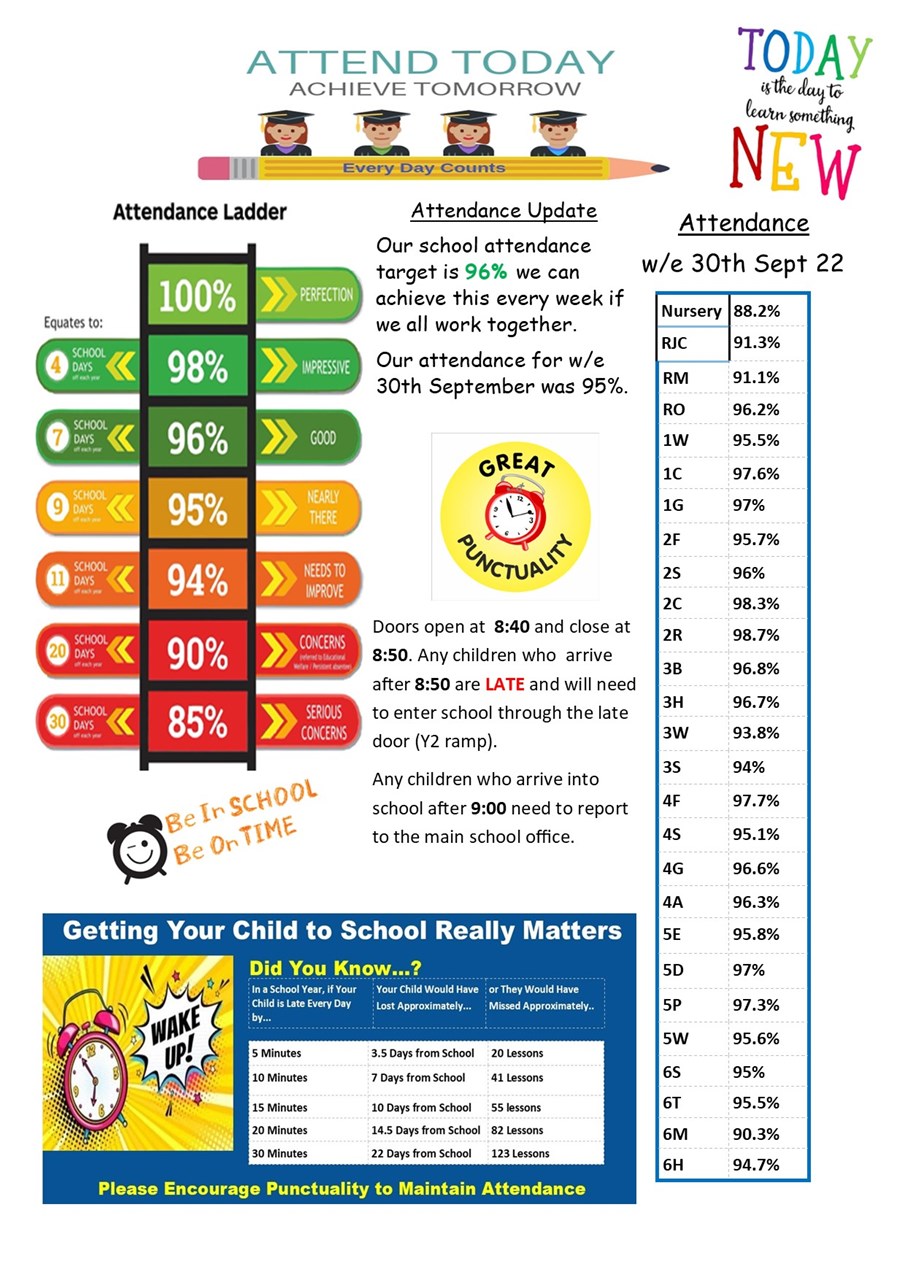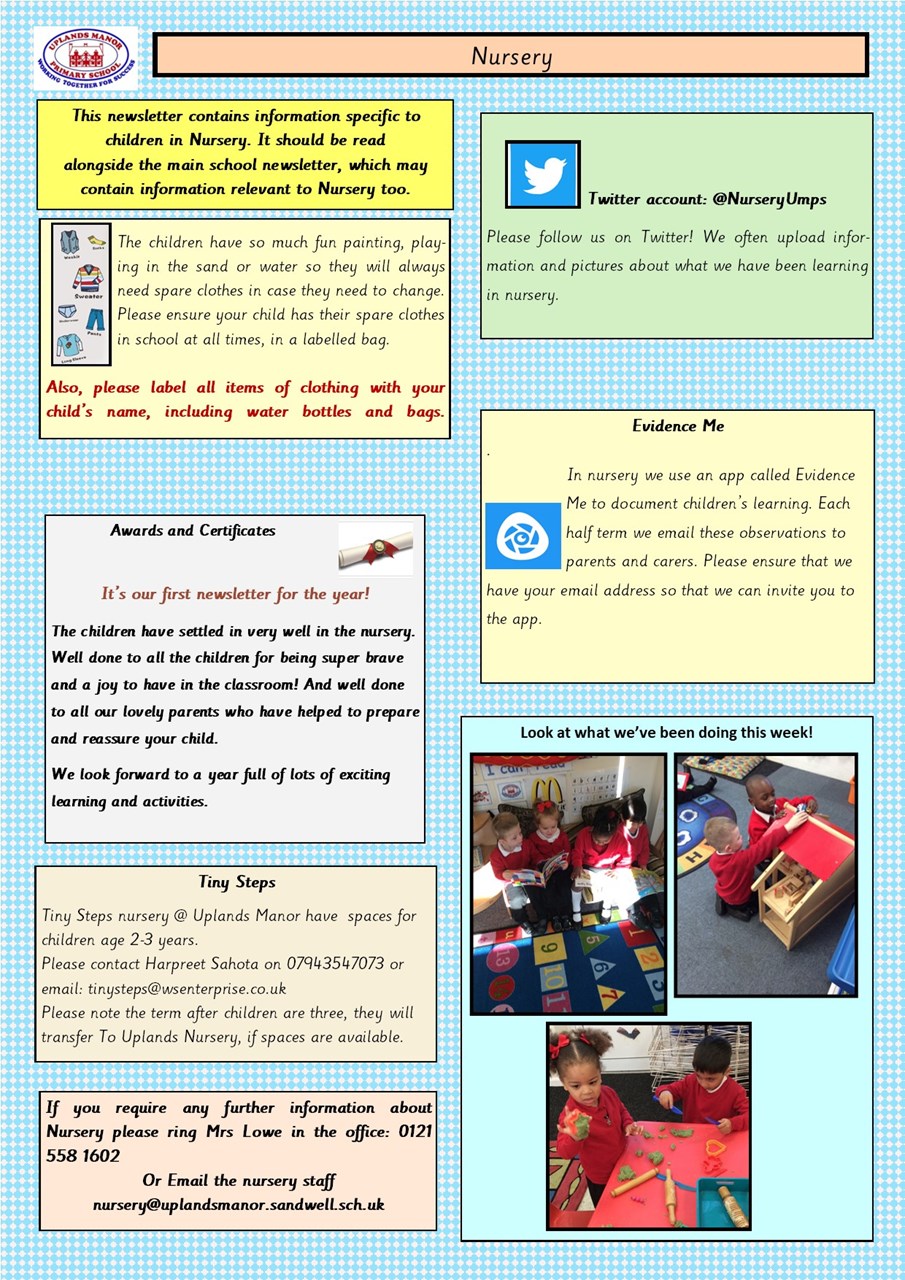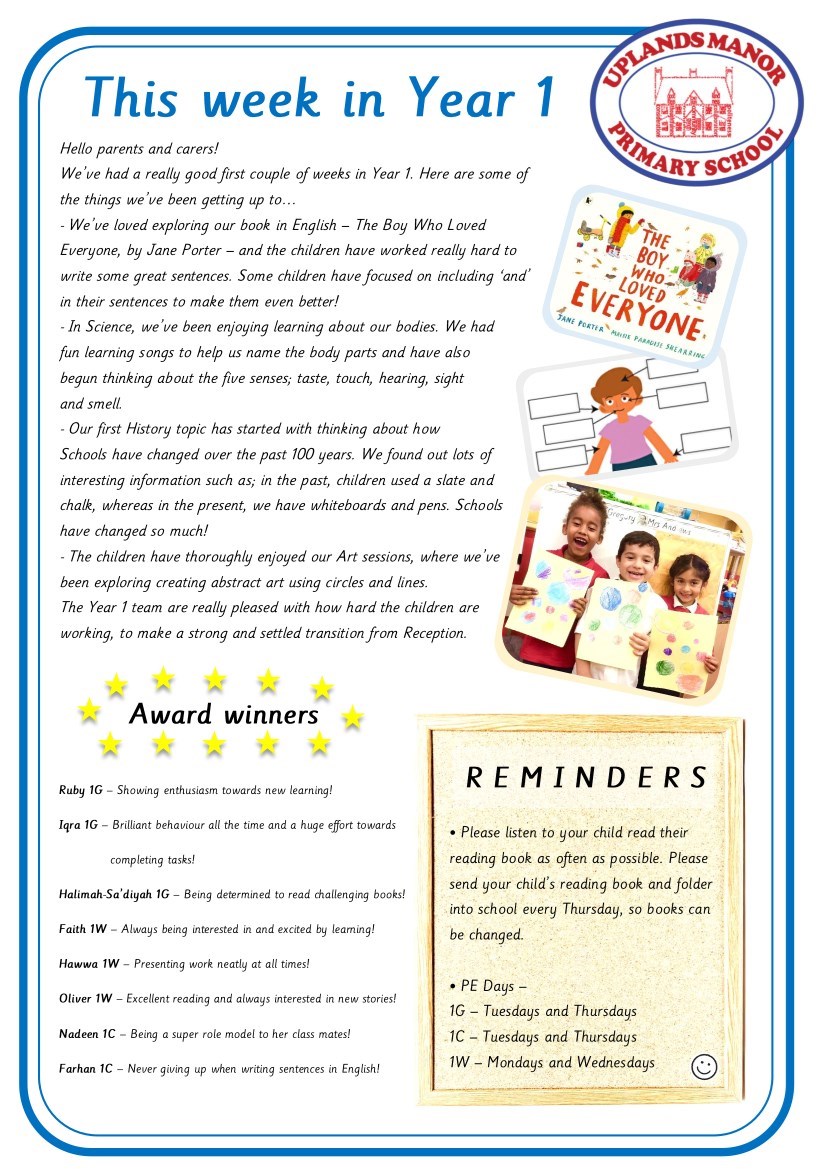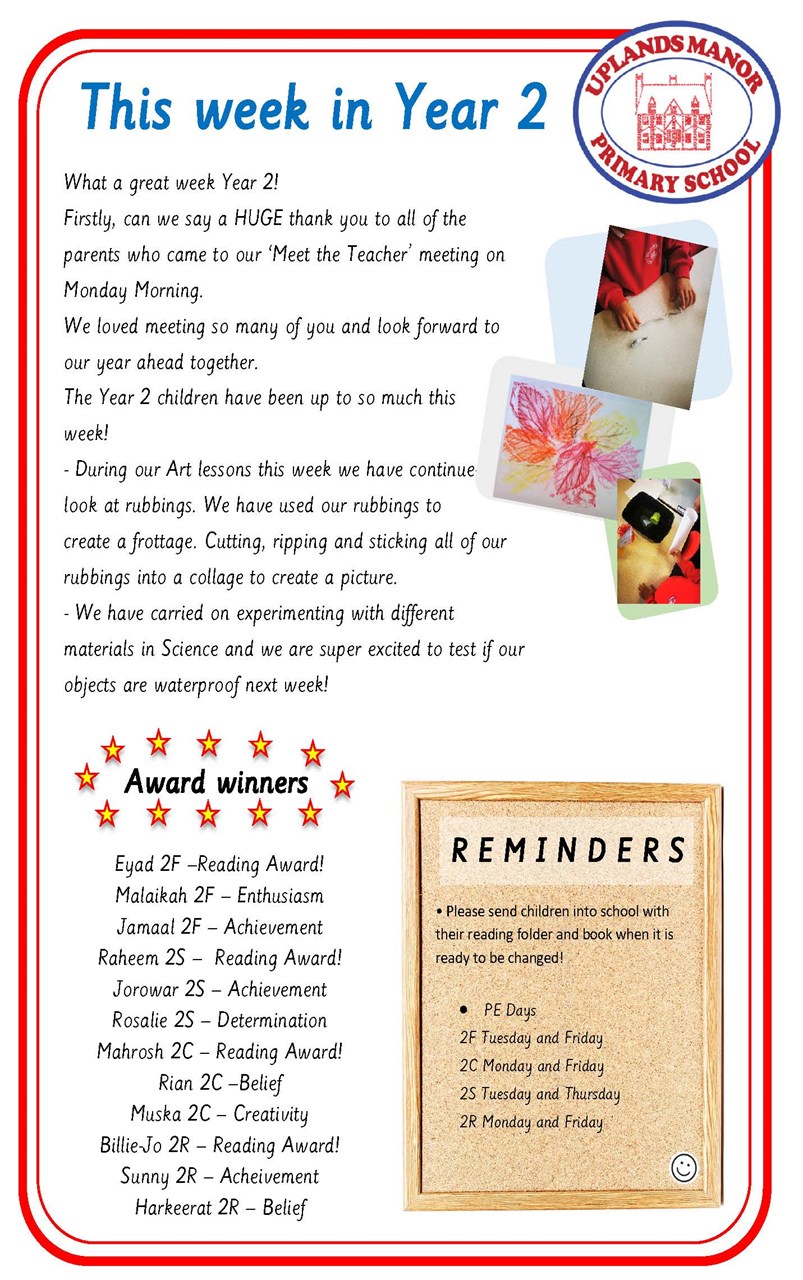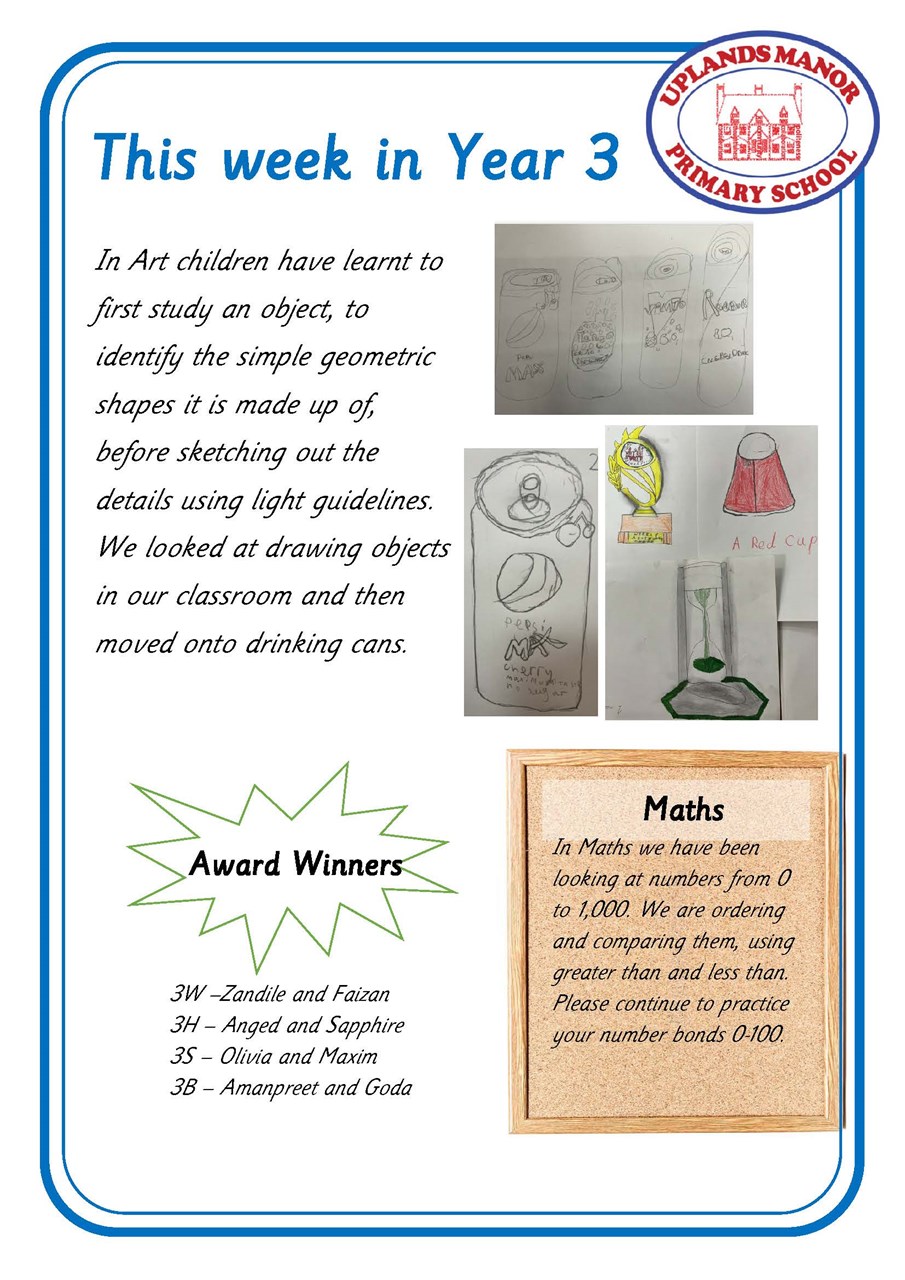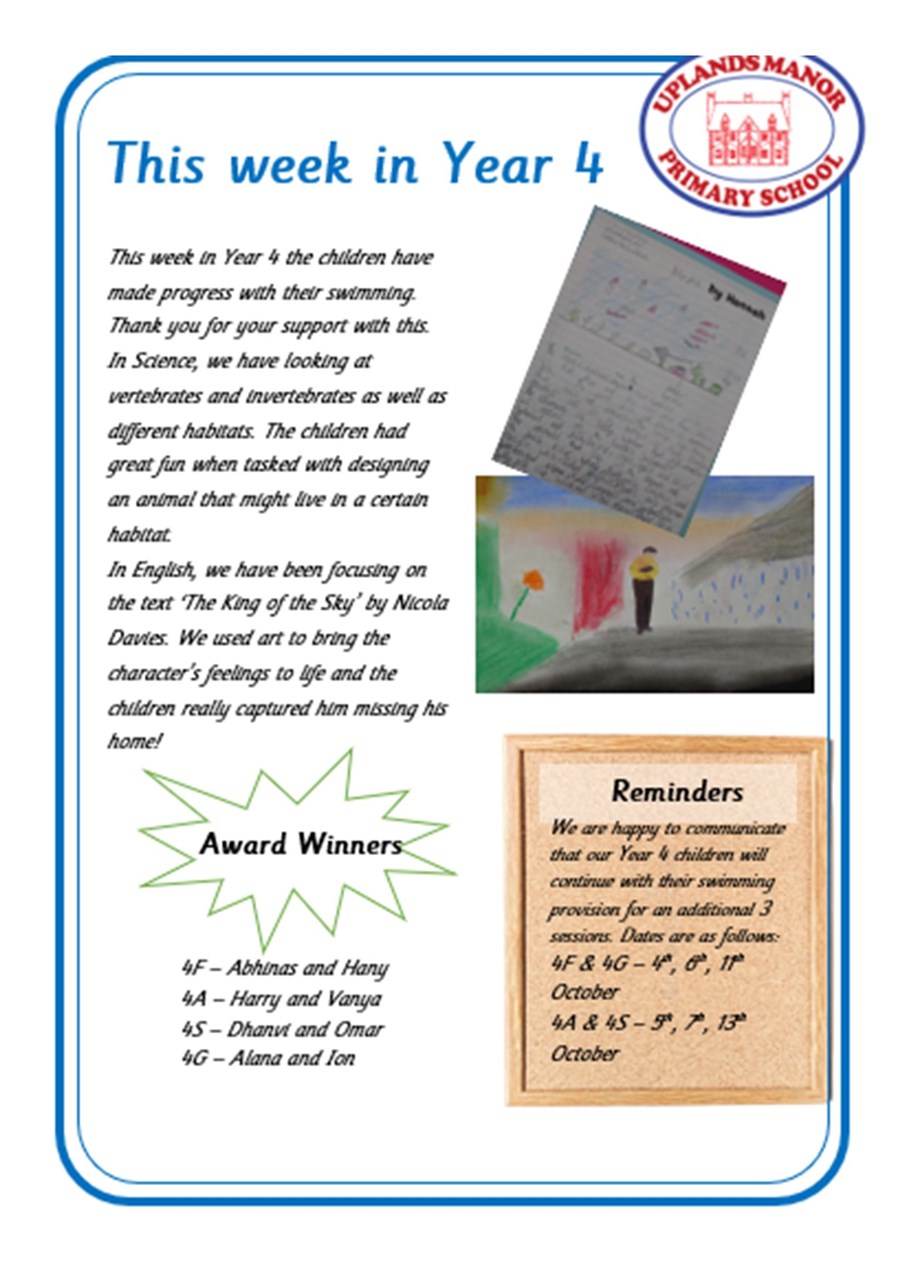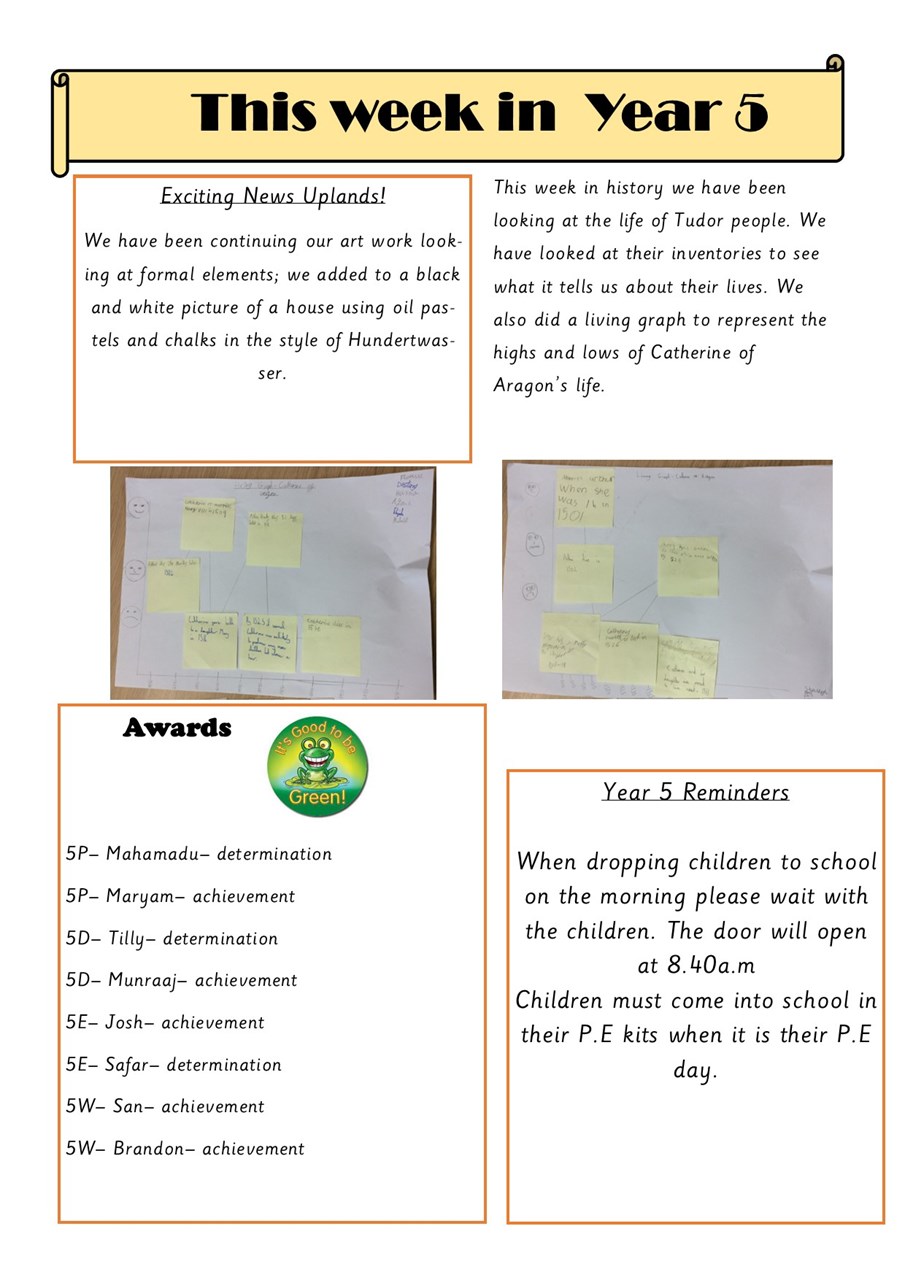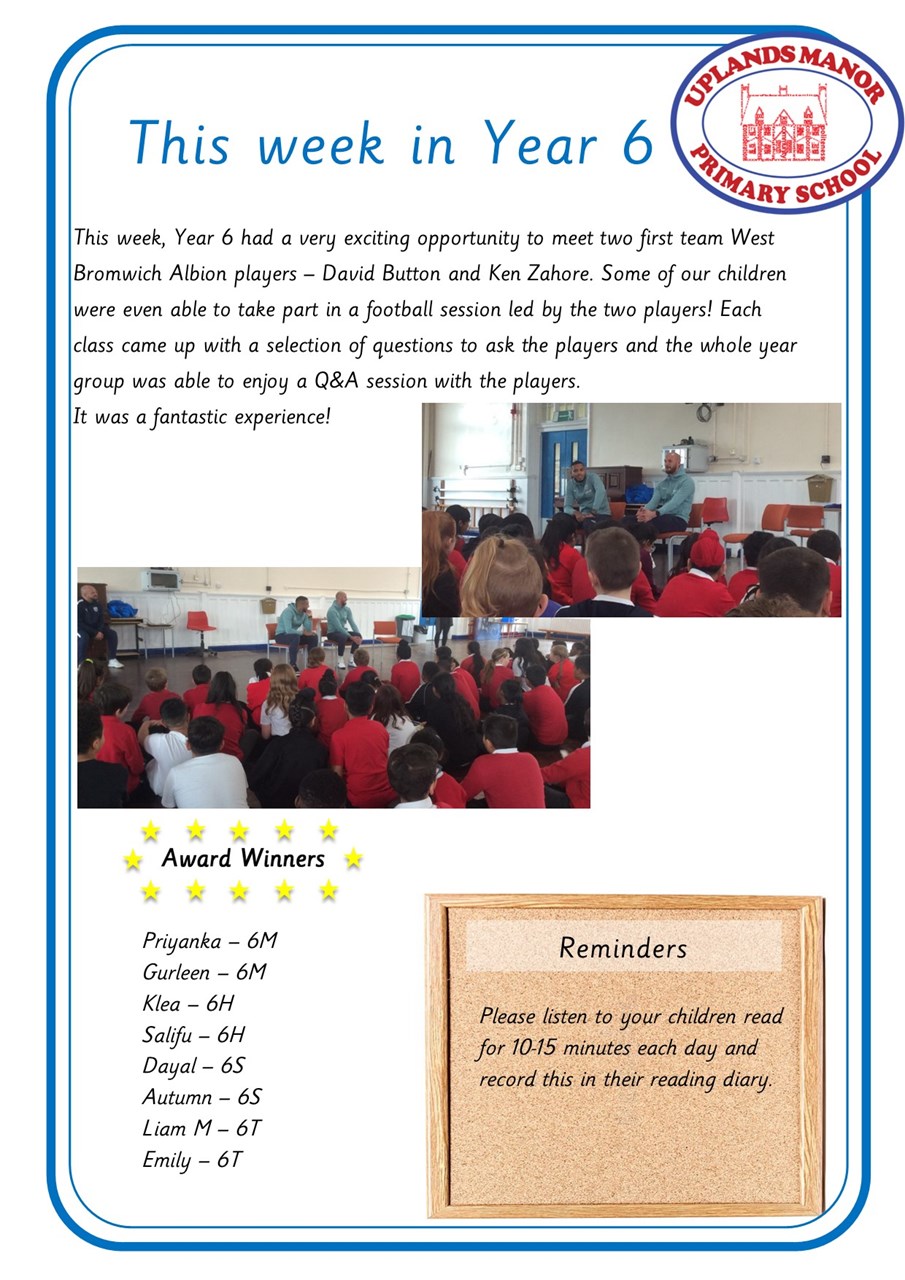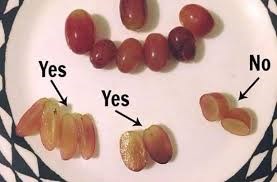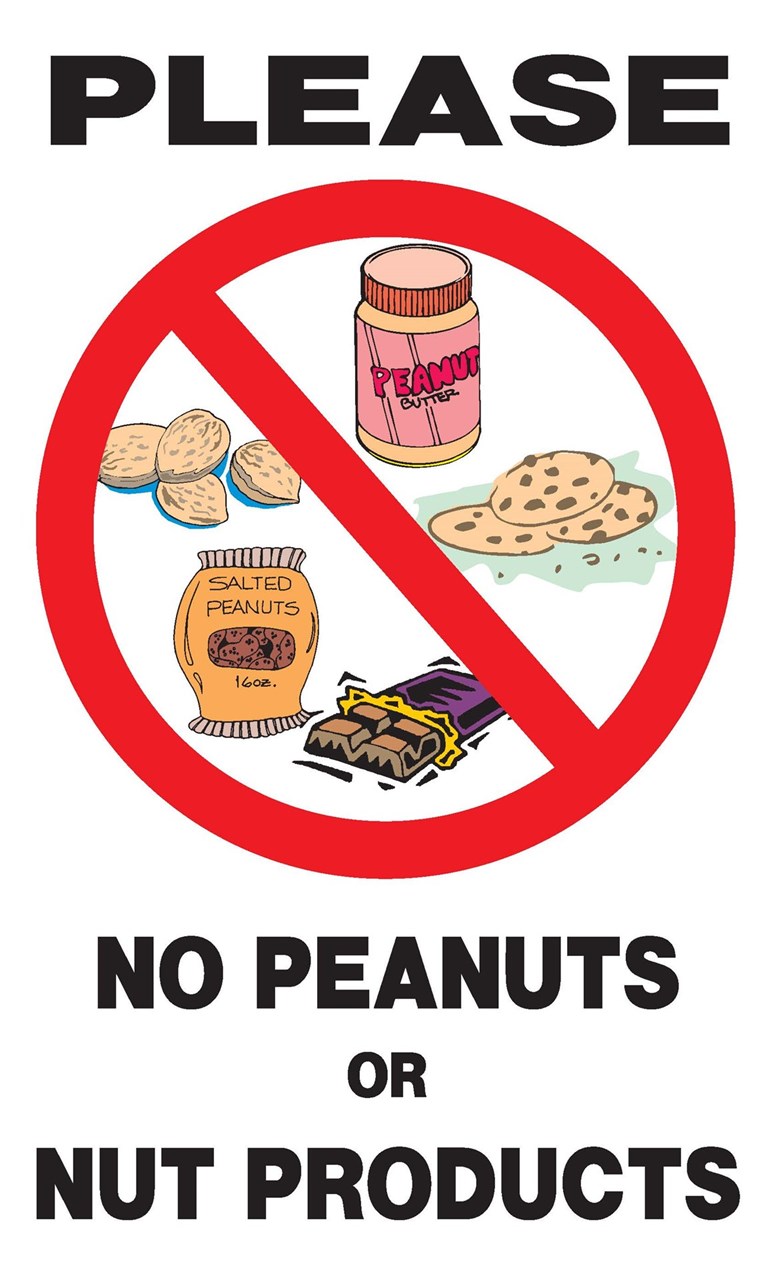 If your child brings a packed lunch from home, please remember to cut up their grapes.
We have a number of staff and children with nut allergies. Please remember do not send in anything into school that contains nuts. Please do not send in peanut butter or Nutella sandwiches (chocolate spread is fine as long as it does not contain nuts.
Thank you for helping us to be a healthy school.

Do you have any adult sized shirts or aprons that you could donate for our art lessons? If you do, we'd love to have them. Please send them in with your child or drop off to School Reception.

On the day of your child's birthday (or nearest day if it falls at the weekend), they can come into school in their own clothes.
Due to the number of people in school with dietary needs and allergies, please do not send in sweets or cake.
Thank you to everyone who has returned their child's Pupil Information Sheet. If you haven't, please check that the details are correct and make any changes then return to school with your child or post in the letterbox inside the main Reception foyer.
Punjabi Club - places available
There are still places available for Year 6 Punjabi club after school on Tuesdays. If your child would like to attend, please speak to the school office.
Harvest Food Bank Collection 2022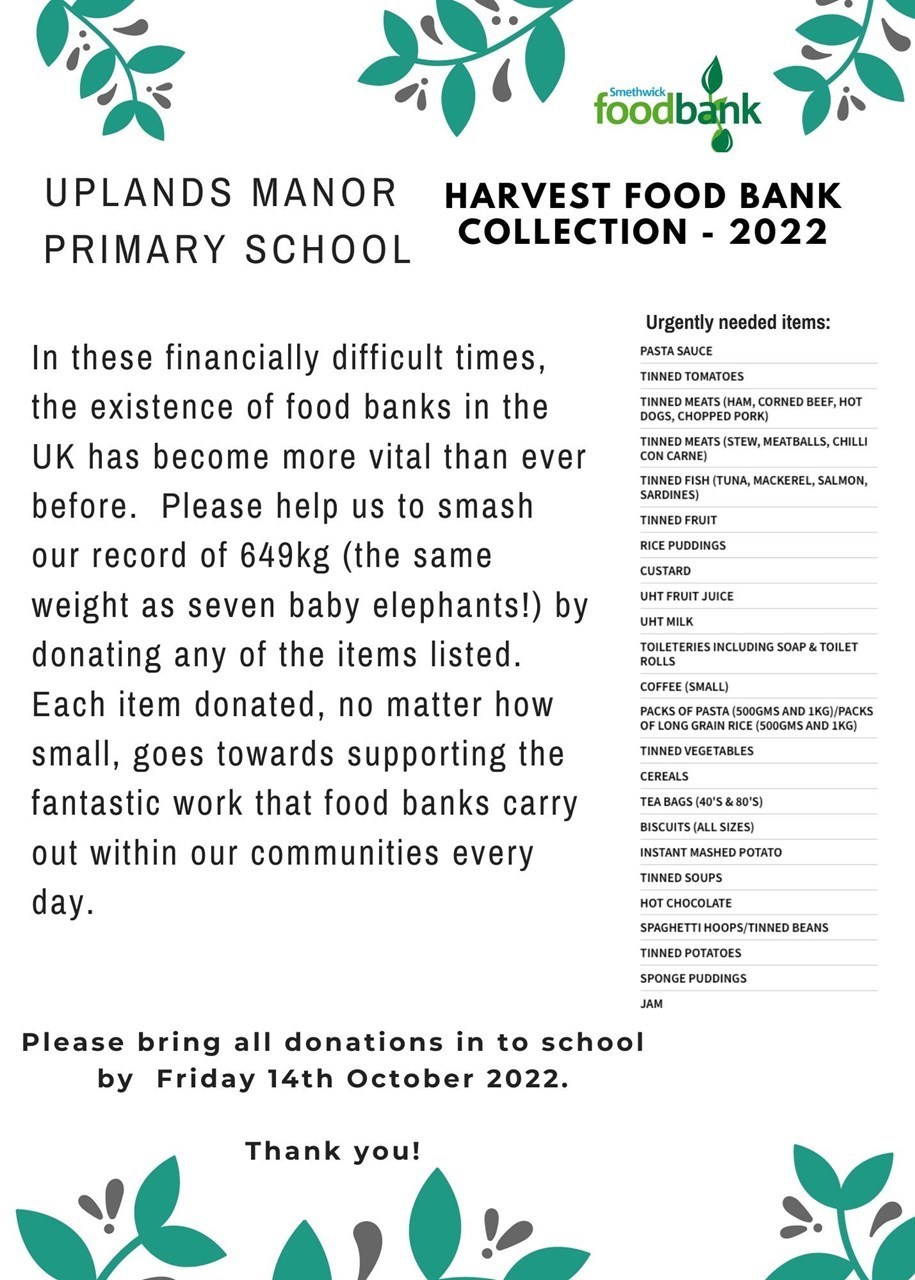 Queen's Platinum Jubilee books
If your child did not receive a Queen's Platinum Jubilee book in July, please ask at main Reception if you would like a copy.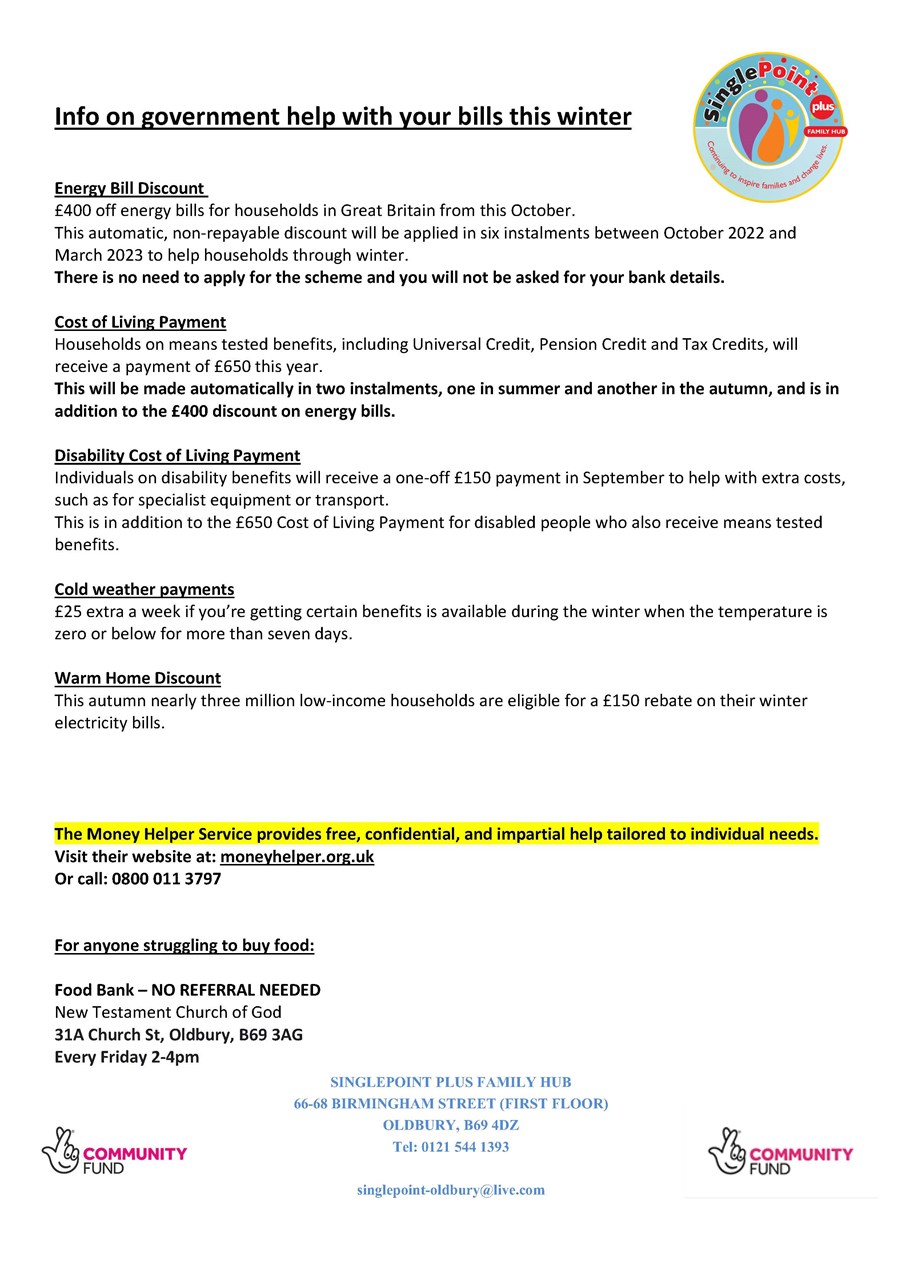 The Dorothy Parkes Centre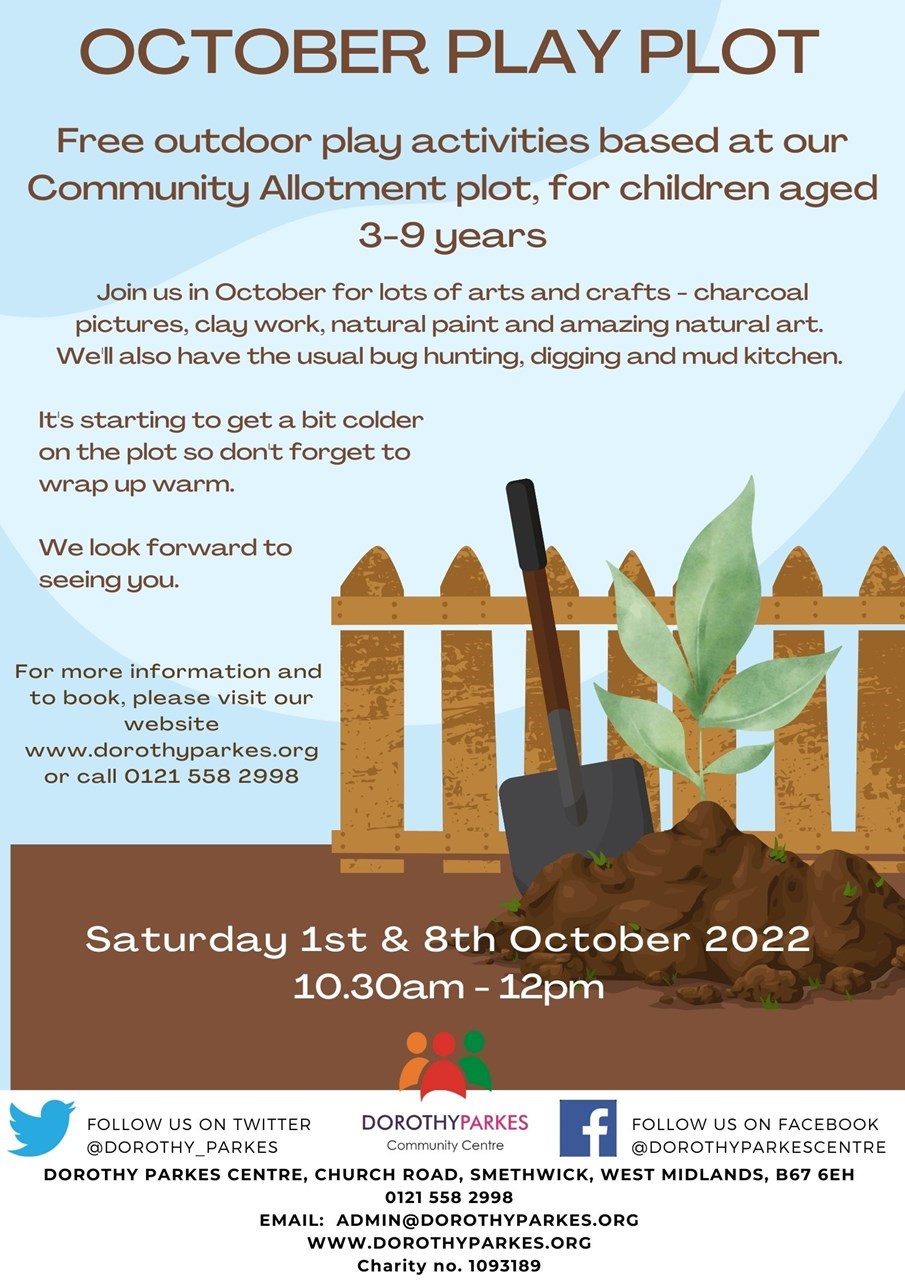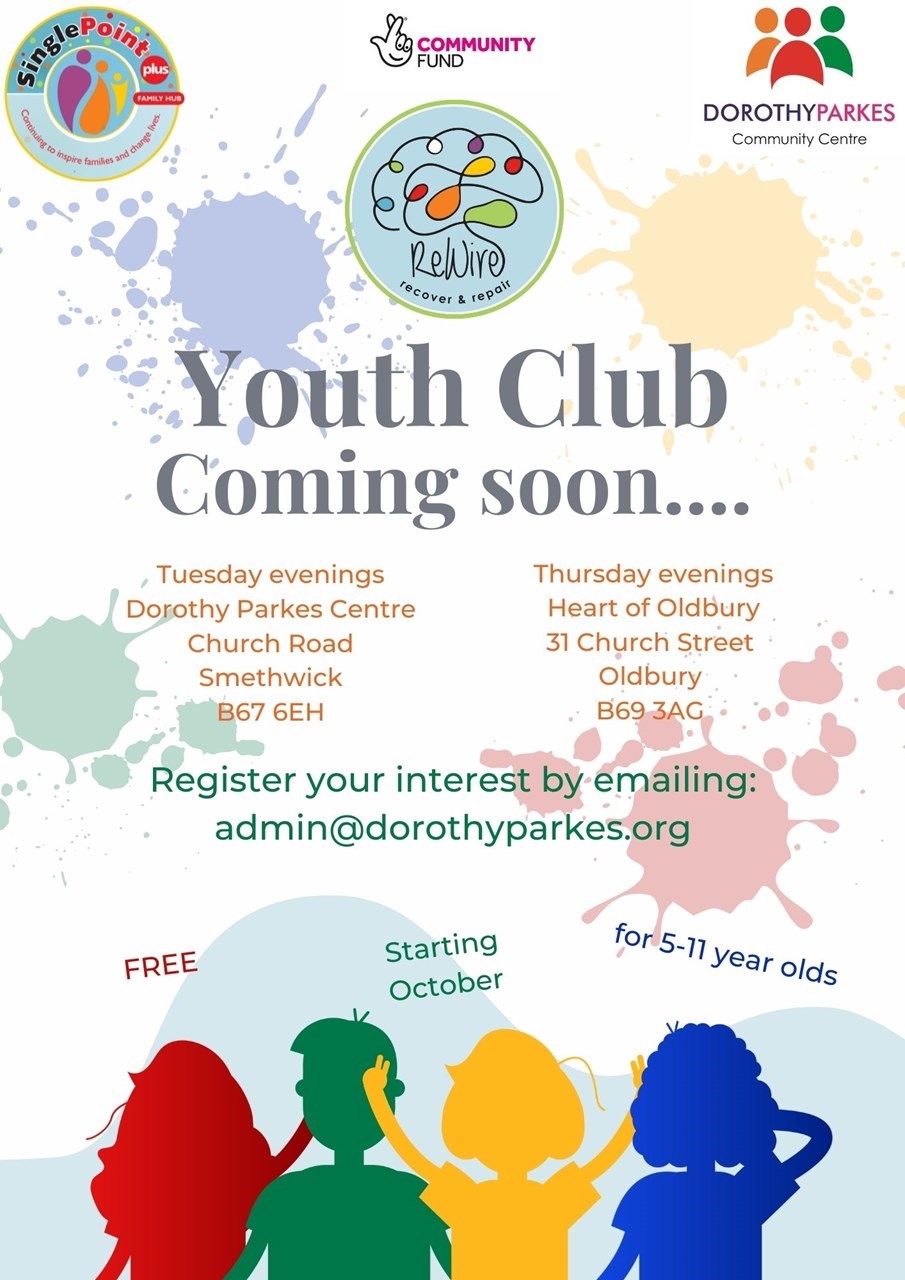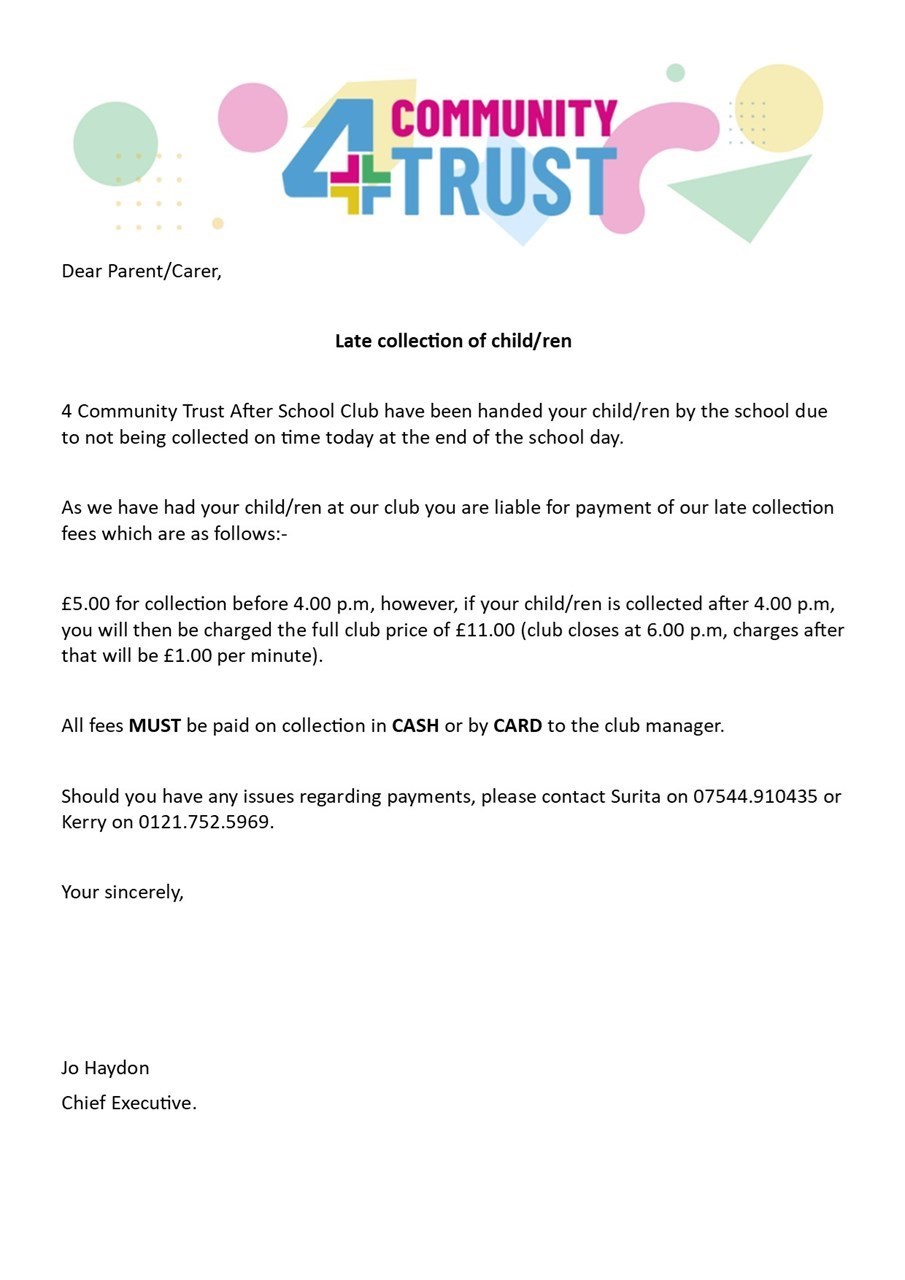 Sandwell Parents for Disabled Children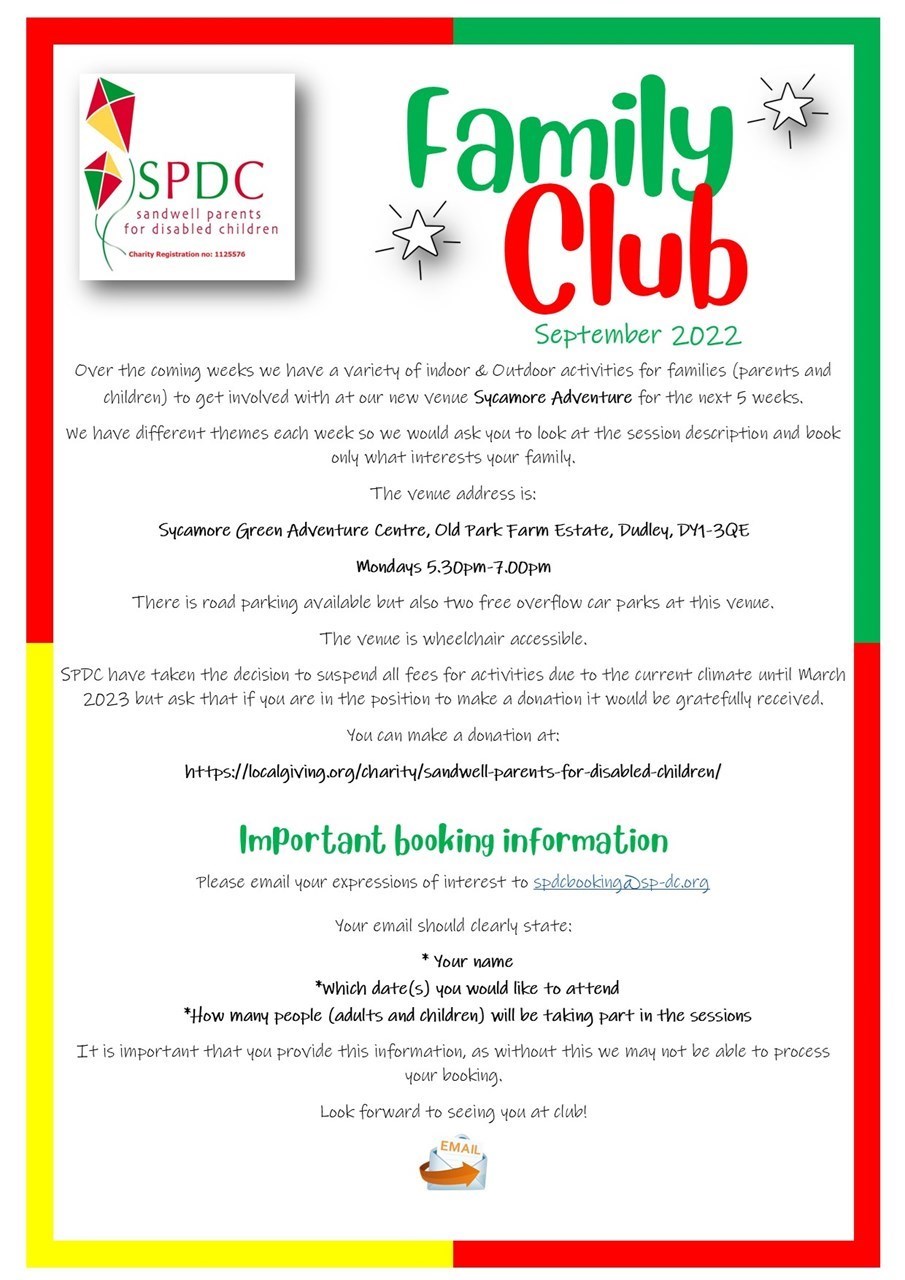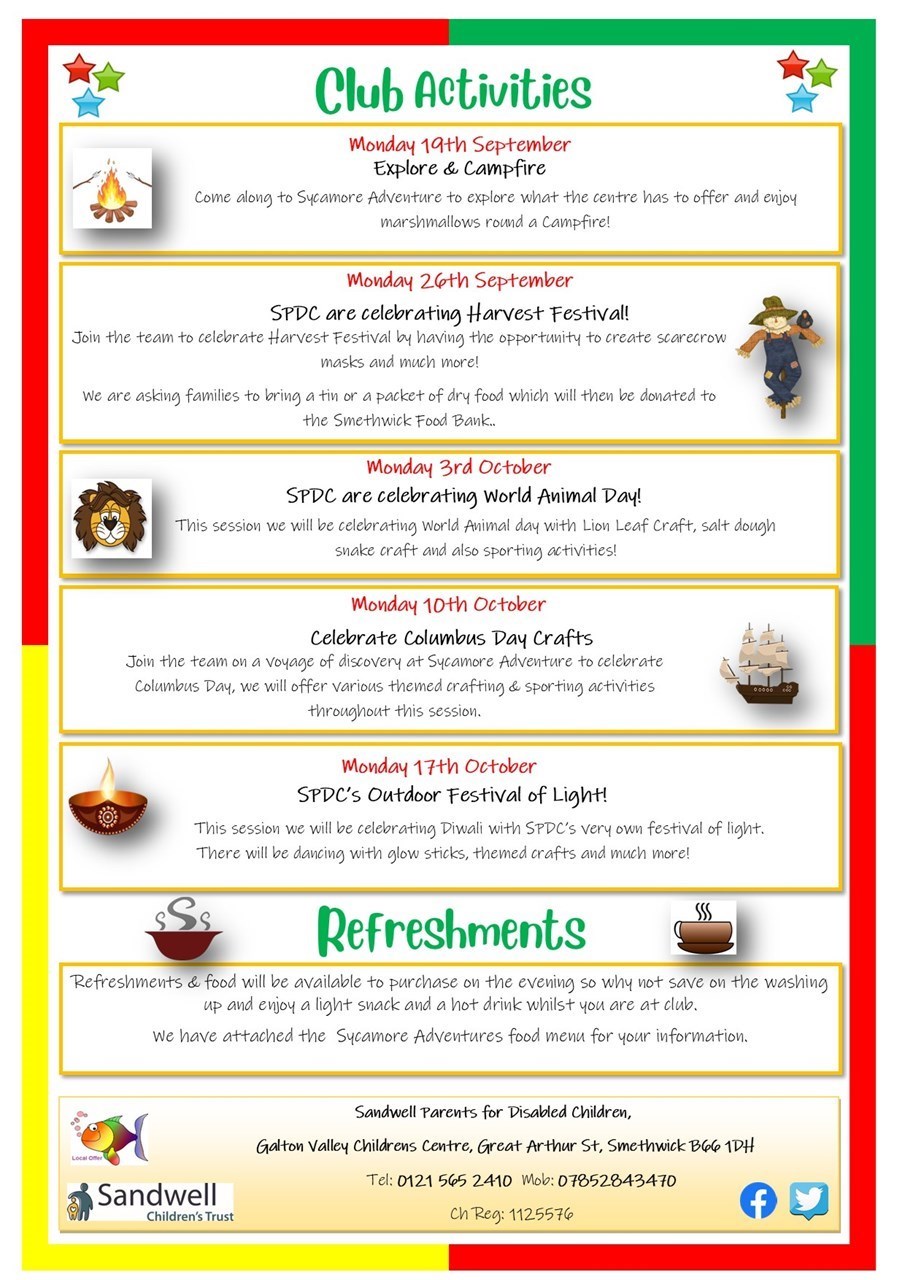 Click the links below for information on Autism West Midlands events.
The West Bromwich Albion Foundation free football sessions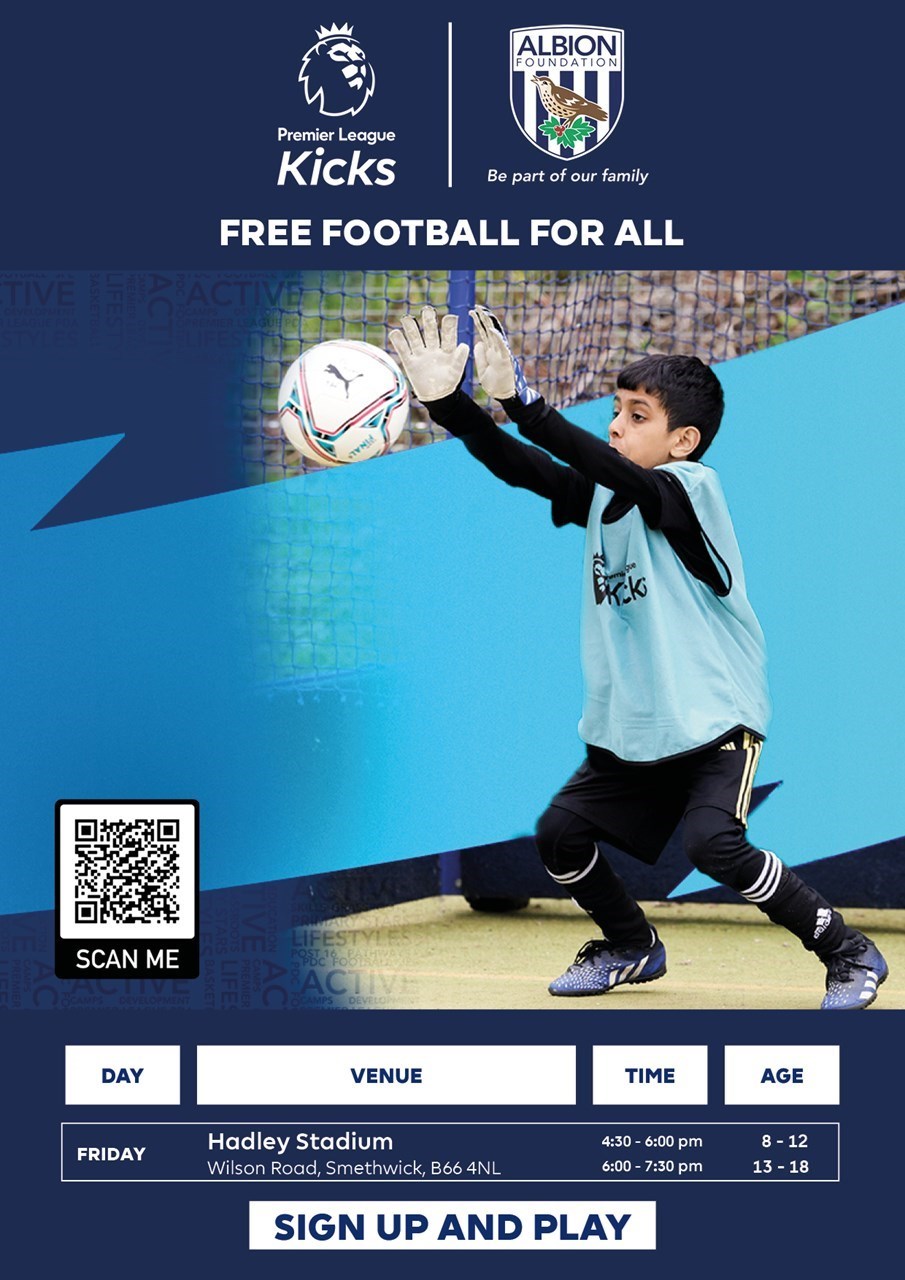 Click the links below to read about the work of Barnados and events for families in Sandwell.